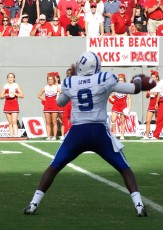 DURHAM, N.C. – Senior quarterback Thaddeus Lewis has been named one of 10 finalists for the 2009 Johnny Unitas Golden Arm Award. The prestigious Golden Arm Award is presented annually to the nation's top senior college quarterback by the Johnny Unitas Golden Arm Educational Foundation, Inc.
Lewis has led Duke to a 3-3 record on the season. He ranks second in the ACC and 17th nationally with 266.8 passing yards per game. He has completed 134-of-213 (.629) pass attempts for 1,601 yards. He has thrown 12 touchdown passes while throwing just two interceptions. He also has three rushing touchdowns to lead the team.
In two conference games, he is averaging a league-best 409.0 yards per game. He completed 40-of-50 pass attempts for 459 yards and five touchdowns in a 49-28 win at N.C. State. His performance earned him National Offensive Player of the Week honors from the Walter Camp Foundation as well as ACC Player of the Week and Davey O'Brien National Quarterback of the Week. He also threw for 359 yards and two touchdowns against No. 6 Virginia Tech.
The 2009 winner will be presented with the Johnny Unitas Golden Arm Award on Friday, December 11 at the Tremont Grand Meeting & Banquet Facility in downtown Baltimore. Joining the festivities that evening will be a number of former Baltimore Colts teammates of Johnny Unitas, along with NFL Hall of Fame quarterback Bart Starr.