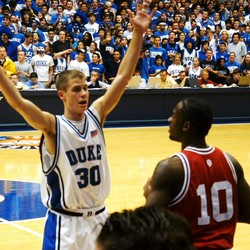 After Duke's Sweet 16 loss to Villanova, on March 27, Coach Krzyzweski was asked, "Does this in any way make you more eager to find a post player who can really score?" He answered, "And a point. And we feel -- it's not like we haven't tried to find them. A couple of them have gone to other schools right at the last second. We were like a three-headed monster on offense. And it carried us a long way, but it couldn't -- they played a lot of five against three tonight."
The Blue Devils may end up with a top rated point guard but it will not be from the Class of 2009. Eric Bledsoe and John Wall have signed with Kentucky, while Darius Smith decided to head East to Connecticut. Those three point guards all had Duke on their list, but the Blue Devils have most likely finished up their recruiting for this year and did not bring in a point guard to complement 6'11 Mason Plumlee and 6'9" Ryan Kelly two McDonald's All-Americans who will potentially provide Coach Krzyzewski considerable depth in the front court. The recruiting focus now shifts to 2010.
For this coming season, point guard duties will remain with Senior Jon Scheyer, a 6'5" wing guard, and Junior Nolan Smith, a 6'3" combo guard. While neither Scheyer nor Smith is a true point guard, both players bring point guard skills onto the court. When the two play together those skills combine to create a point guard who, while not spectacular, is certainly solid.
Jon Scheyer protects the basketball which results in a minimal number of turnovers. After Scheyer led Duke to the ACC Championship and was named the tournament's Most Valuable Player, Kyle Singler commented, "He makes plays for himself and others. That spot for us, when Jon has been there, has been huge for us." For the season, Scheyer recorded a 1.8:1 assists to turnover ratio, while averaging 14.9 points per game. Defensively, Scheyer is a tremendous off-the-ball defender who led Duke with 1.6 steals per game.
Nolan Smith's key skills are on-the-ball defense and the ability to finish at the rim. When he is healthy, Smith is a player who makes Duke a stronger team. Staying healthy has been a bit of a challenge for Smith over his first two seasons as a Blue Devil. He missed three games, late this past regular season, after suffering a concussion and bruised ribs in a game at Maryland. As a freshman, Smith was slowed down the stretch after hyper-extending his knee. With Duke being thin in the backcourt this coming season, it is imperative Smith avoid any significant injuries such as the concussion as well as the nagging little problems of his freshman year.
Last season, the three headed monster Coach Krzyzewski alluded to was: Kyle Singler, Gerald Henderson, and Jon Scheyer. The three combined to average 47.9 points per game which represents 72 percent of the team's points. With Gerald Henderson gone to the NBA, Coach Krzyzewski will be looking for a couple of players to step up their consistency on offense. Nolan Smith, who averaged 8.4 points per game last season, is a likely candidate as is Elliot Williams, who averaged 4.2 points.
As a freshman, Williams came on strong, after being inserted into the starting line-up, averaging 7.3 points over the last 12 games. Williams brings exceptional athleticism onto the court and has the ability to play pressure defense. He needs to develop a consistent jump shot and must improve on his woeful free throw percentage, but Blue Devil fans should look for Williams to be a significant factor in the rotation from day one especially if he makes the type of freshman-to-sophomore improvements prevalent in the college game.
Coach Krzyzewski will only have three guards at his disposal next year so look for Kyle Singler to spend major minutes at small forward. Duke will have to play a larger line-up out of necessity and the competition for playing time should be fierce. Seniors Lance Thomas and Brian Zoubek have started 62 and 21 games respectively during their first three seasons in Durham. They have the advantage of understanding Coach Krzyzewski's defensive system and will be looking to have breakout senior seasons. Neither player has proven to be a consistent offensive option but both have their niche. Thomas is a versatile defender who is valuable in a fast tempo contest, while Zoubek is an extremely talented passer out of the high post. Zoubek made 82.8 percent of his free throw attempts as a junior.
Sophomore Miles Plumlee and freshmen Mason Plumlee and Ryan Kelly will be intent on taking away playing time from the two experienced seniors. Miles Plumlee looked lost on the court at times during his freshman season but also showed flashes of talent. He is mobile and should benefit from the standard freshman-to-sophomore improvement. His brother, Mason Plumlee is a player many analysts believe has the ability to make an immediate impact. Time will tell. Ryan Kelly is a wiry outside-in player with 3-point range. Kelly won the 3-point shooting contest at this year's McDonald's All-American game.
Out of those five frontcourt options, someone needs to step up and establish themselves as a consistent offensive threat. As Coach Krzyzewski stated in March, Duke played a lot of three on five last year and the lack of an interior offensive threat hurt the team. Zoubek and both the Plumlees have the size to be an impact post player what remains to be seen is if they can develop the game to get the job done. Thomas and Kelly are players who need to provide minutes at power forward so Singler can play on the wing.  Sophomore Olek Czyz is a wild card and could compete for playing time at power forward due to his leaping ability and strength, or see duty on the wing due to the lack of backcourt players.
Singler, Scheyer, Smith, and Williams will be the core of next year's rotation. The question is who will be players five, six, and seven? The answer will be interesting but Duke Fans will have to wait until next year and ACC games in January before knowing the answer. In the meantime, it is only late spring and a whole summer of starting line-up and minutes per game speculation lies in front of us not to mention summer pick-up game reports. I'll see you all on the message boards!