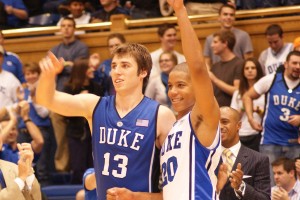 DURHAM, N.C. - Sophomore forward Olek Czyz has decided to leave Duke University, school officials announced Friday. Czyz leaves Duke in good academic standing and is expected to transfer to another Division I school.
Czyz started the first two games of the 2009-10 season and played in six of the team's nine contests on the year. He averaged 2.5 points and 2.0 rebounds in 10.2 minutes per game while shooting .583 (7-of-12) from the field.
"Olek has a bright future ahead of him and we wish him the best of luck," said Duke head coach Mike Krzyzewski. "He has been a valued member of the Duke Basketball family and we will support him through his impending transfer."
A 6-7, 240-pound native of Gdynia, Poland, Czyz saw action in 19 career games at Duke finishing with 23 points, 24 rebounds, eight assists, one block and two steals.