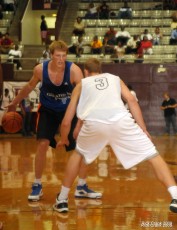 The North Carolina Pro Am is winding down and Mason Plumlee and Team Duhon take to the court today at 3:00 in the semi finals.  While Plumlee is the last Dukie standing on a winning team, his teammates are likely to be added to rosters which is common practice in this event.
Team Duhon won last evenings nightcap 69-60 over to advance to today's semi final.  Mason Plumlee led all scorers with 20 points to go with a bushel of rebounds.  He was aided by South Carolina bound Lakeem Jackson who tallied 15.  Jackson was his teammate at Christ School in Arden, North Carolina.
Rising high school senior and UNC bound Reggie Bullock had perhaps his best games (played twice) on Friday.  Bullock looked smooth and added 14 points for the winner.
Brian Zoubek scored 16 points for the losers and his teammate Olek Czyz went for 3 points.   Zoubek is averaging 15.5 in his two games played.
Miles Plumlee has gained some weight in the off season and he scored 12 points to go with 9 rebounds.  His team lost and Miles had several points missed where he didn't finish or the ball rimmed out.  He finished 6 of 15 from the field.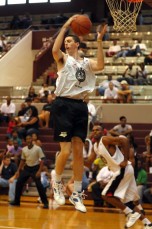 Team Navy took out Team Starkey 71-67 where a comeback effort sparked by Reggie Bullock [19 points] fell short.  Duke freshman to be Ryan Kelly added 15 points on 6 of 13 shooting from the field and 4 rebounds.  Jerry Stackhouse added just 6 points in the loss.
On the other side, John Wall added 15 points and looked really good coming off a sensational effort the evening before.  Wall looks to be an inch taller and has put on significant muscle or added size since I last saw him play.
We'll break down the players overall play in the tournament on out message board on Monday.  Also, we'll have a very nice photo gallery in the coming week.  All photos of Duke players may be purchased from Rick Crank.