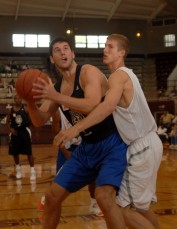 Two Duke players made their NC Pro Am debut on the last night of regularly scheduled games.  Brian Zoubek and Olek Czyz took to the court for Dreamworks to face Mason Plumlee and Team Duhon, a team atop the standings with just one loss.
Olek Czyz has returned back to Durham from his native country Poland, where he played for their national team while still mending from off season surgery.  Czyz, referred to as O.C. last year brought the house down with his dunking ability, but his first night back wasn't as fruitful as years past.
Czyz played about ten minutes scoring 2 points grabbing a single rebound and making one steal.  Not the stat line he'd hope for, especially when you add the five fouls.  It seemed like the PA announcer was calling Olek's number every minute or so.
Czyz played in the game which followed as well, but we do not have a full report on that game, nor the late evening nightcap where Miles Plumlee competed.
Brian Zoubek put up some solid numbers despite have three walks called on him.  Zoubs didn't play in the second half, making his numbers stand out even more.  The seven footer didn't miss a shot from the field on his way to 10 points, but he did miss from the charity stripe going 0-2 including an air ball.  Zoubs added 5 rebounds.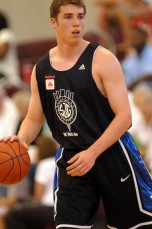 Team Duhon was without a coach and ten players deep, so they seemingly decided on equal playing time.  This meant that Mason Plumlee played sparingly compared to games before.  Plumlee scored 6 points on 2 of 4 shooting and was 2 of 4 from the line.  He had just 2 rebounds and a steal in about 19 minutes of play.
It is worth noting that Plumlee was accompanied by former Christ School teammate Lakeem Jackson [South Carolina] who wound up with 8 points.  Reggie Bullock [UNC 2010] was a non factor not scratching from the field for the losing team.  UNC's Justin Watts led his team in scoring with 14 points.
The Dukies went at each other hard early in the game but played sparingly as opposed to other evenings.
The play offs start this evening and teams must win to continue into Saturday.
Today's schedule -

6:00pm – PJTucker  vs Hendricks
7:00pm – Team Navy vs Starkey
8:00pm – Lucky 7 2 vs E-net
9:00pm – Duhon vs Dreamworks