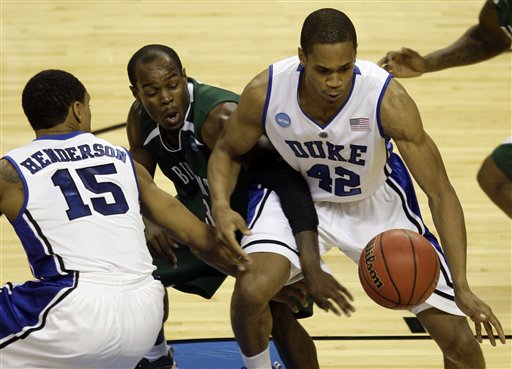 Duke had little trouble whipping up on undersized Binghamton to advance to the Saturday evening game with Texas.  While the Blue Devils had their way over the course of the game, Binghamton played inspired basketball.  The Bearcats kept it close by hitting 6 of 11 three pointers in the first half.
But the Duke defense tightened up in the second half, allowing a single three pointer and starting with a 17-2 run to send the pesky Bearcats reeling.  Duke hit nine three pointers of their own and dominated the game from the charity stripe going 21 of 25.
It didn't hurt that the Blue Devils held a 38-20 edge on the boards, many of them on the offensive end.  Duke had six double figure scorers on the night, led by Lance Thomas who went 5 of 5 from the field for 14 points.
"It just seemed like Lance had tremendous energy and our whole team fed off of it," stated Krzyzewski after his team notched him victory number 832.
Kyle Singler fell just short of a double-double with 10 points and 9 rebounds and had a team high 5 turnovers.  Gerald Henderson chipped in with 13 points and 6 rebounds and Nolan Smith was pretty much a sixth starter off the bench with 13 points and 3 assists.
Jon Scheyer had a team high 15 points and Elliot Williams continued his ascent with 11 points.  Scheyer and Williams had four assists each, making them the team leaders in that category.
"Elliot made a few really big time decisions, or good decisions in how we moved the ball, instead of taking a quick shot," said Krzyzewski of his freshman's play.
Duke will now head back to Durham and prepare for Texas, who won handily over Minnesota to advance.  The Longhorns will bring a lot more size to the table than the Blue Devils' first opponent and will be led by A.J. Abrams who scored 26 points today.
The Blue Devils are now 29-6 overall for the season.  Duke is now 87-29 in the NCAA Tournament which equals the highest winning percentage of any team.  Duke now has 30 NCAA Tournament wins since 2000 and 290 wins in the decade which tops the list of all schools in that time period.