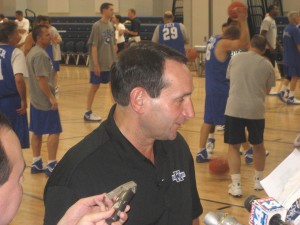 If past history proves to be correct, then Duke may well advance to the Sweet 16 with their fourth win against no losses versus Rick Barnes and Texas.  On the other hand, if recent history is at work , then the Blue Devils may take the short trip home to Durham, once again saddened by an early exit.
Duke is now one of three ACC schools left standing after the first round, while Texas is among the undefeated teams from the Big 12.  Let, Duke or UNC go down today and rants of the ACC is overrated will dominate the air waves in the coming week.  If both go down, it will be known as Black Saturday, which mirrors Black Sunday where Duke and UNC lost on the same day to definitive underdogs.
Make no mistake that Texas is a formidable opponent, which has three kids who can rebound with anybody.  They may have the most explosive player on the court with A.J. Abrams, who nailed a bushel of three pointers in the Long Horns easy opening round win over Minnesota.
Abrams comes into the game averaging 26.0 ppg and he will likley make or break the Blue Devils or should I say the Blue Devils may make or break him with their defense.  The bottom line is that Duke will look to slwo him down and not give him any more open looks than necessary.
Texas inserted three guards into their lineup and have since been playing solid basketball.  The pre season top ten team fell just short of expectations, but their talent level is at, well, a high level. 
Where Texas rally flourishes is on the boards.  Dexter Pittman is a 6-10, 298 pound behemoth who continues to come into his own.  Pittman will be a difficult match up for Duke who will not be able to double team him but so often in that Damion Jones and Gary Johnson are athletic and probably both better players than Pittman.
Jones averages 15.2 ppg and 9.1 rebounds and is all over the place.  You may also remember Gary Johnson for Duke once took a long look at him.  Johnson sat out one season with heart problems. but he plays bigger than his 6-6 height and has good hops and the ability to do damage inside.
Duke will count on Elliot Williams, Nolan Smith and whoever switches to keep Texas from being able to dish to their bigs, which despite Abrams is the strength of their team.  The Blue Devils will very much need some good minutes from Brian Zoubek and Lance Thomas and as always will need to keep their true front court star, Kyle Singler out of foul trouble.
The X-Factor could be Gerald Henderson, a player capable of turning any game.  However, Henderson will face some athletic wings which will not allow him to drive like he is accustomed to unless Duke finds season in the defense which will most likely come from pushing the basketball up the floor when possible.
It is very important for Duke to hit their three point shots in this contest and canning the free throws wouldn't hurt.  Coach Rick Barnes is 4-8 versus Krzyzewski, but their are grumblings among some fans that Texas is due.
One more intangible, will be that UNC fans are likely to make this seem like a road game, despite their distaste for Rick Barnes, a story for another day.  This may allow Texas to reach deep and or gain momentum for runs, so Duke will have to focus on forty minutes of basketball.
While anything can happen in a game, if Duke is shooting the ball well from the three point stripe, I expect that they will fight through the recent bugaboo where they flamed out early.
This is a different Duke team, but still one developing it's psych.  Barnes expects Duke to come out hard early, but the Devils will not be allowed to get too jacked up by Krzyzewski who knows the final score is what counts and that the game will likely have some runs by both teams.
So, the pick here is Duke 75 Texas 70 in a hard fought contest.