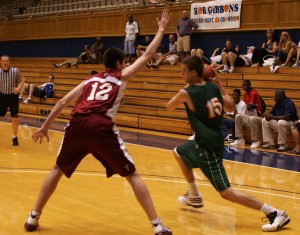 This edition is a bit of a preview edition as many high schools tipped off their first games in early December and newspapers across the country kicked off their high school basketball coverage with season previews and articles focused upon key players. [private]
Christ School improved to 5 - 0 on the season with back to back wins at the Christ School Tip-Off Tournament. The Greenies defeated Greenville High School 89 - 60 and Greenfield School 89 - 70. Junior Marshall Plumlee (7'0" 200) recorded a double-double with 12 points and 12 rebounds in the first game and added 9 points and 8 rebounds in the championship game.
Sophomore J.P. Tokoto was in foul trouble and held to 10 points as Menomonee Falls fell to Milwaukee King 65 -62 in overtime. The Milwaukee Journal Sentinel has a game recap posted as well as a detailed preview on Tokoto. By the way, J.P. stands for Jean Pierre.
Tyler Thornton and Gonzaga College High School are looking to win the WCAC Championship this season.  Here is a seven minute video preview of the team.
Austin Rivers is ready to start his junior season at Winter Park High School and the Wildcats are considered one of the favorites to win the Class 6A State Championship. The Orlando Sentinel has an article posted on Rivers as well as a video interview in which Rivers discusses his team's loss in the state semi-finals last season. Winter Park will be hosting the Rotary Tip-Off tournament Dec. 2-5.
Trey Zeigler is a 6'-5" shooting guard at Mt Pleasant High School in Michigan whose name has been mentioned in connection with Duke. There is some speculation Duke will pursue him if things do not pan out with Roscoe Smith. Zeigler is ranked as the # 35 player in the Class of 2010 and his father is the coach at Central Michigan University. This article from the Morning Sun discusses Zeigler and his focus on team play.
Quality Education Academy lost to Findlay Prep, 69 – 63, at the Tournament of Champions in Peoria, IL.
And Bradley Beal, ranked number seven in the Class of 2011, according to Scout, has given a verbal commitment to play his college ball at the University of Florida. The St Louis Today has a nice article on Beal's commitment.
Prep sports coverage in online newspapers across the nation is still focused upon football, but basketball coverage will pick up as football seasons come to an end. As the coverage increases, Blue Devil Nation will keep you posted on game results for Duke recruits and recruiting targets with links to articles and box scores from across the country. [/private]