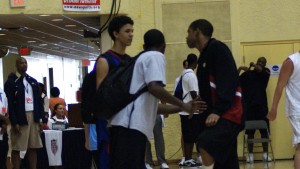 With all the questions surrounding where Duke will seriously look to fill another spot in the class of 2010, I decided to break it down as it stands today.  First off
Roscoe Smith
is a [private] long shot, but Duke is still involved but to a much lesser degree than some think.  While Smith is talented, there seems to be too many issues to overcome, mainly academics.
Duke has turned their focus to three players and you heard about all of them in our past updates.  Duke is involved with Trey Zeigler and they like him a lot, but then again they like others as well.  As has been mentioned Zeigler will take a while to make his decision.  Some of the incoming prospects have been networking with Zeigler and while Duke is in this one a little late, they are still in it.
Nate James recently checked out Carrick Felix a 6-6, 180 SF who currently plays as a freshman for Southern Idaho Community College.  Felix is a very athletic wing who would benefit the Devils with his versatility.  Felix has the grades to get in from sources close to the situation and he has a bevy of schools after him.  Felix got his start in Arizona where he burst onto the scene and would be a rare reach into junior college.  Like Zeigler, the Blue Devils like what they see in this kid.  He cuts through defenses and plays good on ball defense, filling passing lanes as well.  Good shooter but a bit streaky.
Then there is Terrence Ross who as you know backed out of his verbal to Maryland.  We told you early on Kentucky was involved and there will be plenty of company joining the race.  Ross is a very athletic wing, similar to the aforementioned prospects. There are some questions as to whether Ross can qualify and he has already been talking with Kentucky.
As for Tashawn Mabry, you can pretty much consider him off the radar from what I have heard.  The Rocky Mount product has been suspended and from what I am hearing, it is from a serious incident which is under investigation.  Maryland has turned their attention towards Marbry after losing Ross.
So Duke is heavily involved with all three of these guys and are looking for anyone else who may pop up.  In short, Duke wants to sign a player in this size range to help balance their team according toa source as close to the program as one can get
Duke is still looking to get Austin Rivers in for a visit and that will likely happen as the ACC season gets into full swing.  Look for a lot of guys visit during the UNC game and there will be other games as well.  As of now, no visits are set in stone.  If Brad Beal de-commits from Florida it is unlikely Duke will look his way for Rivers is their guy.  Still, we'll take a wait and see approach on Beal.
Duke is also still very active with Quincy Miller and they'll ride this one out.  Duke continues to look at Marshall Plumlee as well.
JP Tokoto is still on the radar as well but Duke is aware that this one seems to be getting more and more like rides they've been on so they will keep their options wide open.  Tokoto holds an offer and showed a lot of interest at the Elite Camp but his camp changed their tune a bit after many felt a verbal could happen early on.  Still, I am in no way saying Duke is not very much in this race for they are and his step father likes Coach K a lot.
Unrelated, strong rumors out of Chapel Hill have been say for three weeks now that not all of the Heels are happy.  Many of the recent additions have been recruited over and you can just about bank it that someone will leave.  My guess would be either Stirckland or McDonald and fwiw, the word is stronger on McDonald.  But let them worry about their own and we'll worry about ours.
I will be adding a few more tidbits to the thread on the message board later this evening, so no need for questions in that I will tell you what I know.[/private]