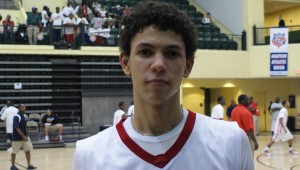 HAMPTON - BDN is in Hampton, Virginia to cover the Nike EYBL Session I, formerly known as the Boo Williams Invitational, this weekend where the nation's top prospects have gathered to kick off the grass roots season.
There has already been an upset on day one where Each One Teach One, led by Austin Rivers, defeated powerful Team Final, which features Michael Gilchrist and Rakeem Christmas.
Each One Teach One got off to a good start despite Rivers starting the game 2 for 10 from the field.  Rivers ended the game with 15 points and his play helped lead his team to the 76-64 upset victory.
Rivers was swarmed by the media after the game where mainly UNC sites were asking the questions.  BDN has that whole interview for you as well as another one when the rest of the media was not around.  Those interviews will appear shortly for members of Blue Devil Nation Premium.
We talked to prospect Tyler Adams as well along with Justin Anderson on day one of the event.  We'll be reporting from the camp this weekend and it is loaded with talent.
In the nightcap, future Duke star Michael Gbinije went 6 of 10 from the field and 5 of 5 from the free throw stripe for a total of 17 points to go with 2 rebounds and 3 steals.  His team won easily and you will also hear from him in the coming days.
So, it's a great time to join Blue Devil Nation Premium where you'll get full site access and the skinny on the real Duke prospects.