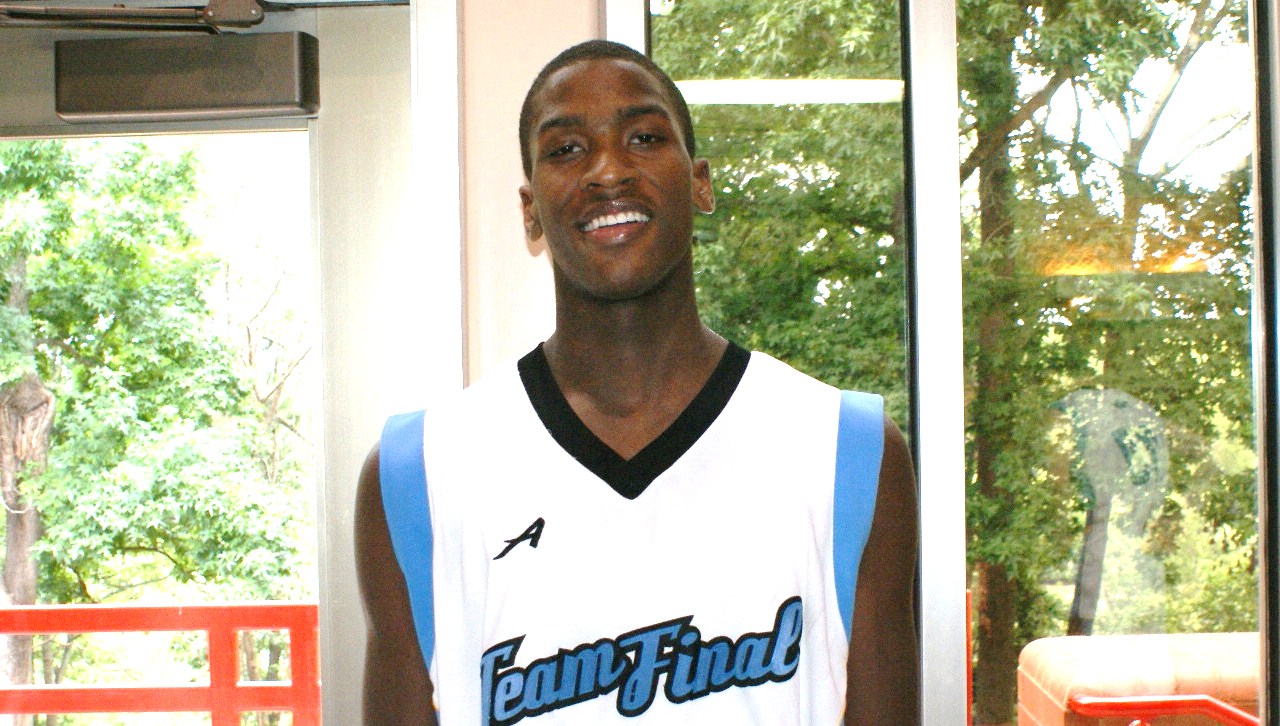 Michael Gilchrist is a ridiculously talented fifteen year old prospect who could already compete at the college level.  Every AAU event I go to, he seems to be hitting buzzer beating half court shots or dominating guys two years older and ranked at the top of their class.  The hype surrounding this young fellow is still gaining steam and there is no doubt that he is the best player in his class and that his future looks blindingly bright.  BDN caught up with Gilchrist and learned more about how his camp will be handling the process in the future.
I know it's tough after a loss like that for you guys don't lose many?
It's fine.
What did coach tell you about the next time,  just bring it?
Yeah, umh, just give it your all.  That's it, just give it your all.   (BDN covers the AAU in Las Vegas starting tomorrow, join the best Duke recruiting subscription now and you won't miss a beat.) [private]
(Other site) What schools are you hearing from now?
What's that?
(Other site) What schools are you hearing from?
(That's when his mom stepped in saying, "We're not going to talk about schools right now.  It's very early in the process for him."  She seemed upset at the sudden abruptness of the question of schools from a member of another site.  Hey, tone and easing in is important with these kids.  The question about schools was asked in a not so friendly authoritative business like manner)
So, it is going to go down until the end?
(Mom again. " We have no idea, it's a family decision and we're just going to keep it close to our family.  There is too much in the media about the schools and his selection.  We are going to let him take his time and it's his life and his decision.  That's what me and Dad have decided so that's the way it is going to be."
As a family are you feeling the pressure from all of the hype?
(Mom - "We don't feel any pressure, because me and Dad are driving this bus.  Michael is fifteen he is having a good time, that's all."  She then took a step back as the Nike reps eyes were wide from surprise at how she bristled.)  I then felt as if I would try to close out the interview in some way other than walking off.)
Michael, what do you feel like you can improve on in your game?
I can improve on everything.  Just improve on everything.
So, at this point you just want to concentrate on your basketball and not so much the recruiting process?
Yes, yes.
Okay.
Do you know where you guys are going from here?
I am going to Florida, the (AAU) nationals.
There are a lot of elite camps going on, have you been invited to any of those?
Just the skill academiess.
Thanks for your time and good luck the rest of the tournament.
In closing, I got the impression that Gilchrist is a young kid who is coming to grips with the hye surrounding him.  With the nations top coaches and the likes of World Wide Wes watching your every move, it has to be daunting.  Gilchrist seemed shy and uncertain with his answers, but his mom did allude to the fact he is just fifteen years old and that is something we all need to remember.
Michael is destined to be a special player.  In fact, Coach K feels he is the best player in all of high school basketball at this early age.  Duke knows that it will be a battle royall for his service, but they made sure that their presence was at the forefront in his games.  The Blue Devils do have Gilchrist on their radar and contacts have been made. [/private]