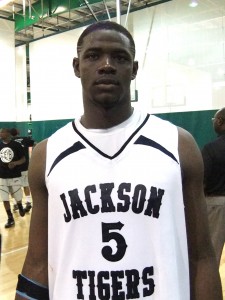 HAMPTON - BDN was on the scene at this weekends Boo Williams Invitational which is now known as the Nike EYBL Session I where we took in the nations top basketball prospects.  We'll be churning out interviews and scouting reports as the week progresses and we'll start it off with Tyler Adams.
If you are a member you have already had an introduction to Adams, but we've yet to really concentrate on his play at AAU events.  Adams is a back to the basket player, a true center if you will. That's the kind of player Duke has an opening for and Adams was offered about five weeks ago.
During the interview Adams [6-9 1/2 Brandon High School, Brandon Mississippi, AAU Jackson Tigers, Class of 2011] stated that Duke was his leader and that he would be  visiting the campus soon.  For his exact comments and a scouting report, check out our latest interview with the hulking star.
How do you feel you've played thus far in this event?
I feel like I played pretty good, physical and everything, better in the second half than the first half of this game.
Which schools are giving you looks?
Well Duke is recruiting me real hard, [private] Mississippi State, Alabama, Memphis and Clemson.
When did Duke start recruiting you?
About a month and a half ago and once they called me they came pretty hard.
Have you talked with Coach K [Krzyzewski] yet?
Yeah, yeah.  I talked to him about two or three times.  My Dad talks to him a lot.
Your Dad grew up a Duke fan, right?
He said he's been liking Duke ever since he was a little boy.
When do you plan on making a decision as to where you'll play in college?
Early this summer.
Are you planning any visits in the near future?
I'm probably going to visit Duke in June when I get out of school.
What can Tyler Adams work on to make his game better?
Right now I'm working on conditioning and I need to work on my jump shot to increase my range.
Three words which best describes you on the court would be?
[said without hesitation or pondering thoughts] Big, physical and strong
Three words which best fit you off the court?
[smiling] Nice, goofy and outgoing.
Did Duke say how they would use you if you chose to play there?
I'm a back to the basket guy and they don't have anyone big and physical like that.
Is Duke the favorite.
Right now?  Yeah, yeah.
Are there any hold ups in the process with Duke?
Not really, no.  I'm just trying to get my grades straight right now.
Who is the lead assistant at Duke for your services?
Coach James. [Nate James]
Did James or Krzyzewski say how they would use you if you picked them?

Being able to come in and be physical, play big and be a physical presence.
Thanks for your time and good luck in the rest of the weekend.
Yes sir.  Thank you.
Synopsis - Adams needs some work on his grades but if they fall into place, Adams will pick the Blue Devils.  The decision could come the moment the aforementioned matters are wrapped up.
My take on his game - Adams is a back to the basket player that has a quick first leap but needs work on the timing of his jump.  He is a true center type or a player who could play two positions, that being the post or power forward.  Needs work on his shooting mechanics, especially from the free throw stripe and has limited range at this stage of his development.  He seems unselfish on the offensive end and can flush a dunk or take it to the paint.  He can float out for the jumper but that is not his strength at this time.  He alters shots and seems to want to be around the play, not taking too many plays off if any during my two views of his game.  He is capable of controlling the glass, but needs some work on his footwork for positioning.   He can clean up on misses with follow shots and had 3 blocks in one game albeit against a smaller team.  We'll keep track of his progress and Andrew Slater and other will chime in on his game in the near future. [/private]