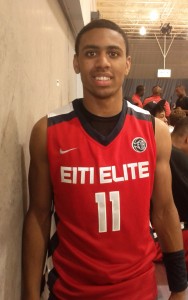 "Point guards should only be judged by whether you win or lose. The rest of that stuff doesn't matter.''
-Mike D'Antoni
In the humid central Florida city of Apopka, a 6'1" point guard named Joel Berry II is working on perfecting his craft. For the past few months, he's worked with trainer Cornell Rivers, who worked with the Celtics' Marquis Daniels, on taking his shooting to another level. Joel makes 6,000 shots per weekend. These sessions can take between four and eight hours.
This March, the sophomore point guard led his young Lake Highland Prep squad to their first state championship game. Joel scored twenty-two points in the opening half of the 4A title game against Pine Crest, but the Lake Highland Highlanders ultimately lost that game after Berry, finishing with twenty-six points, fouled out of the game with 3:07 left in the game, missing their remaining six shots of the game. After finishing with a 28-4 record and returning all of their starters, they will be early favorites to win their first state title next season and are scheduled to play in the challenging City of Palms Tournament in Ft. Myers, FL next December.
For his efforts, the always gracious Berry II became the first sophomore in Florida's history to win the Mr. Basketball Award. Joel also was named Gatorade's Player of the Year in Florida. Gatorade cited his championship game run, his 3.3 GPA, and his volunteer work as the reasons for the sophomore's distinction. For the season, Joel averaged over 23 points, 5 rebounds, 3 steals, and 3 assists per game.
This AAU season, Berry has formed a dynamic 1-2 punch with Dakari Johnson, a 6'10" sophomore from Brooklyn who plays at Montverde Academy for Coach Kevin Boyle. Despite the youth, the Florida based-team, Each One Teach One, has gone 8-1 through the Minneapolis and Hampton legs of the Nike EYBL. Each One Teach One is the AAU program that Duke freshman and soon-to-be NBA guard, Austin Rivers, played for.
One of his E1T1 coaches is Joel Berry, Sr. Mr. Berry was a standout multi-sport athlete in his own regard. He was an Adidas All-American football player in 1987 as well as an All-Metro Orlando performer in both track and basketball. Mr. Berry opted to pursue football at the University of Central Florida, but, unfortunately, injured his knee as a sophomore and never played football again. He's been able to stay in good shape via a mix of strength training and the martial arts. After going back to school, Mr. Berry is scheduled to earn a Master's degree this month from the University of Central Florida. Joel's sister, Kourtnie, just helped lead Rollins College of Winter Park, FL to a Division II Final Four, the furthest in program history.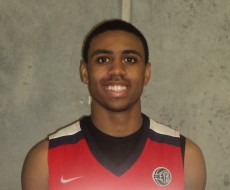 Last year, playing two age groups up, Joel Berry II felt he needed to score more in order for his E1T1 team to have any chance at victory. Coaches Mike Krzyzewski, Jim Calhoun, and Billy Donovan watched the then rising sophomore play, at times, over the course of the limited July period, but he's anxious to show the improvements in his overall game, particularly his on-the-ball defense, his improved physique and strength, which enables him to take the physicality that accompanies being a penetrating point guard, and ability to facilitate an offense.
After a recent game, Joel, who, from a personality standpoint, has managed to have the near perfect blend of being a tiger on the court and a good-natured gentleman off of it, spoke with me again after an EYBL game.
What are some things that you've improved on most since last year?
I've worked on my leadership a lot. I'm a real quiet person.
So am I.
Yeah, so I just tried to go out there and play basketball, but people had been telling me that I have to be more vocal out on the court. So, I've tried to work on that a lot. It's one thing that I definitely feel like I've improved on. I've been going to a lot of leadership programs and that's helped a lot.
That's great. What are you hoping to show coaches this year?
I just want to show them that I can be a leader and run a team. Every time, I can't wait to just go out there and play and help us win.
Well, I think you've got a much better team to work with than last year's team. No offense to last year's team, but you guys are older and made a great offseason acquisition by picking up the big fella, Dakari (Johnson).
Yes, sir, we've got a lot of size this year and it's important that I get them the ball in spots where they can be successful with it. We've got a lot of players this year that can score and so it'll take a lot of pressure off of me to score. I can just lead my team and distribute the ball. Last year, you know I needed to score a lot for us to try to win. This year, it's been great because it feels like more we're more of a team  out there.
Leadership is [private] the thing that the coaches who watched you last summer will notice most, however, this year.
Yes, sir, absolutely.
Now, it wasn't always smooth sailing for you last year, but how do you think the experience of playing EYBL last year will help you this year?
Oh, it'll help a lot. I've seen my game really go up in high school basketball and then, now, we're competing against the best of the best. I love this. In high school, Florida is really not strong, but, when I come or get to challenge myself against this level of competition, game in and game out, I can really showcase my game.
You'll definitely get more exposure.
Yes, sir.
Back to Dakari (Johnson) for a second, what dynamic does he bring to your team? He's a nice kid too.
Oh, yeah, he's been great for us. We really didn't have a dominant big man to where we can go inside.
You two will make a good tandem.
Yes, sir, and we can work a nice two-man game and then, with our other big men, we can dump the ball into Dakari. We have faith in Dakari because he's one of the best in the nation, regardless of class.
This high school season was a major step forward for you, both personally and your team.
Oh, it was just great. We made it to the state championship game for the first time in forty-two years. Then, we ended up losing, but we accomplished something that no one else in our school's history had and we're going to bring back..
Well, for the next two years, you guys are going to be the favorites.
Yes, sir, for next year, we bring back our entire starting five. It should be great fun, but we can't afford to rest. We need to keep working.
That's the attitude.
Yes, sir, and then, personally, I swept everybody in Central Florida with the awards.
I know. I was proud of you.
Yes, thank you, I was the first sophomore to win the Mr. Basketball Award.
Sure, let's talk about that award specifically.
Oh, yeah, it was a major honor to get that award because usually they give it to seniors and players that are going out, but I put in an enormous amount of work and I just thought that I deserved it this year.
Well, of course, you deserved it.
(laughs)
People are always interested in recruiting. What schools are recruiting you right now?
UNC, Duke, Kentucky…just a lot of ACC and SEC schools. Well, I've been receiving them from all over, but those are the main two conferences. Right now, I'm looking into it and I am serious about it, but, once it gets deeper into the summer, I'll get even more serious about it. I'll talk more about it with my parents. I owe it to the schools to put some serious thought into it.
I saw Coach (Roy) Williams at this game.
Yes, sir.
Who handles your recruitment mostly at this point, your coaches or your parents?
Oh, my dad handles it.
Well, he's a good filter. He's been through it as a two-sport player through football and has been coaching basketball for a while now.
Yes, sir, but there are a lot of schools that've expressed some interest. It can be hectic for him, but I'm really happy and grateful for the options.
Going back to Carolina and Duke, how much interest have they expressed in you so far? What's your interest in both? I know that you were a big Carolina fan growing up.
Yes, sir, but I just like their style of play. I like the coaches. They're a good academic school too and that's what I'm looking for.
I remember that you were about a 3.5 student as a freshman and then I heard that you were about a 3.3 this year too.
Yes, sir. I really want to be able to have something that I can fall back on in case anything happens or for things that I'd like to do after basketball. I mean I just love basketball, but I'd like to know that there's something else in case
Well, you're going to hopefully live a long life. I always think that it's a good insurance plan for players. God forbid anything happens, but, at least, you'll have something of value that an injury can't take away. Would you be open to Duke as well?
Oh, yes, I like Coach Mike Krzyzewski. I like the way he carries himself and the way he runs his program. I like the pace that they play too. I would be open to any school. I'm grateful for every school that expresses an interest.
What's your current size?
I'm about 6'1" and a half. My weight is 192 right now. I've gone up from 185 at the end of last year.
Are you trying to get bigger or add muscle? I know that your dad does a lot of training.
I'm not really trying to get bigger, but just get bigger so that I can handle the more physical nature of being a guard. I wanted to be able to get physical with the other guards and also be able to take whatever they did to me.
Sure, well, you like to penetrate and so you're getting hit every time you go down the lane.
Absolutely, that's the reason. That's mainly what I've been working on or towards. Mainly, it's been my shoulders and chest.
Well, you definitely look more developed in those areas.
Yes, sir, I've been working hard with my coaches and trainers on improving in those areas because I've taken a lot of hits. I like to get to the hole and I like to dish it off.
Well, your dad was in good shape and worked as a trainer.
Yes, he's been a part of it too.
I remember that you worked out before school at about 6 every morning. Three days a week on strength and then on that VertiMax for the other two days.
Yeah, I never took a break. You can always work on your conditioning, sir. I tried to improve my explosiveness and quickness.
Would you say that a "scoring point guard" is a fair description of you?
It can be, yes, definitely.
On last year's team, your squad was so young and so they needed you to score.
Absolutely, on last year's team, they needed me to score, but, on this year's team, we've got plenty of scorers and so I don't need to try to score on every possession. Scoring hasn't been on my mind this year, but, if I have to, I have to.
In terms of a timeline, do you have a time when you'd like to either cut down on your list or decide on a school?
Well, yes, sir, I think by mid-season next year, I'll probably try to cut down on the list.
Have you visited any schools recently and do you have any planned?
Oh, I've visited Florida and Miami, but that's really about it. I plan on visiting a lot of schools this summer. So, hopefully, that'll help too.
What will you be looking for when you make your visits? Comfort level..
Yeah, comfort level, do I fit in with them, I'd like to be able to have or build a good relationship with the coaches. That'll be very important. I'd like to have a relationship with my college coaches like I have with my AAU coaches, you know, someone that I can talk to and will work with me to improve my game. That'll be what I'll be looking for on the trips.
Tell the audience a little about your father. He was a two-sport athlete, but hurt his knee as like a full or running back and never played again. That was a real shame.
Yeah, he was an All-American in high school and played for Central Florida and it was a shame, but he's fought back and he's going to get his Master's degree now from Central Florida.
I'm glad to hear that.
Oh, yes, sir, and he's graduating and looking forward to starting his own company.
That's that entrepreneurial spirit.
Yes, sir, that's why I'd like to study engineering or even architecture.
Using that mind of yours.
Yes, sir.
What are some of your goals, short-term and long-term?
Long-term, my dream is to make it to the NBA and then, short-term, is just to win the Peach Jam. That's my focus.
Those are good goals. By the way, what do you hope to accomplish in the next high school season?
I'd love to win the state title. We bring back almost our whole team and I'd just love to win the title with these guys.
Who are going to be some of your toughest competitors next year?
Well, we've been invited to the City of Palms, which is big for our school. I don't know who we're going to face there.
They always have a loaded field down there. That'll be good for your team's playoff run and also bring some exposure as well.
Yes, sir, they're always supposed to have very tough competition over there. I'm looking forward to it because I know that there are a lot of good schools out there. Hopefully, we'll be up to the challenge, but I like the challenge of it.
By the way, have you ever played against Tyus Jones and, if so, how'd you do? How would you compare yourself with him?
We played against each other at the USA. He's a great player and he's a slasher. I respect him, but I haven't spoken to him recently.
Is there a rivalry between you two or not really?
Oh, no, it's friendly. We just go out there and play our hardest. I mean, on the court, I'm not looking for friends, but, off the court, it's cool and we're just playing our games.
Who are some other point guards in your class that people should take note of?
Larry Austin. He's a great player and a great kid. We've gone against each other and he makes me go hard. I make him go hard.
Who are some other players that people should keep an eye out for in your class?  Obviously, Dakari..
Oh, well, Dakari, Paul White..
Jahlil?
Yes, Okafor. I like being around all of those guys. I like them all.
What about Stanley Johnson?
Oh, yeah, Stanley, he's talented too and a funny kid.
Yeah, he's always cracking jokes.
Yeah, he is. Funny kid.
Who else?
Well, I've met and played against Andrew Wiggins, but I've never actually talked to him. I've seen him around and he's always working. He seems like a great kid. I feel like I've seen a lot of players in my class, but I really don't feel like I know a lot of them.
I remember you told me that Austin Rivers was the best player that you've played with or against. Is Rivers still the best player that you've faced?
Yes, I think so. I played with him. Not really against him. I mean I like the way he plays and how he continues to try to make other players better and improve on different aspects of his game. He's so dangerous and yet, he's not satisfied. He's hungry. I've really worked a lot on the defensive end. I've tried to make it my focus. I love to work on the defensive end. I almost don't even care about working on my offense, but I have to. I can't let that slide, but I do actually like to start out by working on my defense. I'm trying to make it better and better.
In what ways do you try to work on your defense? How would you assess your defense as of today?
It's gotten a lot better. I've been doing a lot of side or lateral movements. I want to make my lateral quickness as fast as possible. I've working on my on-the-ball defense.
Getting low?
Yes, sir, I'm getting low. My hands are active. My defense has improved a lot. My dad always tells me to start with my defense. If my offense doesn't come, well, at least, we can always give our best on defense.
Is LeBron still your favorite player?
I love the way he plays. He plays so hard on both ends. I just really enjoy watching him.
For an audience that hasn't seen you play yet, give them a little scouting report and what would say are your strengths and weaknesses?
My weakness had been that I needed to work on my left hand to make it as strong as my right.
Well, you've got a strong right. I almost wonder why they don't try to overplay your right.
Yes, my strengths are getting to basket and either dishing off or scoring. In terms of a scouting report, I'd say that if my man gets up on me, I'm going to take him to the hole and, if he backs off, I can pull up on him.
Who do you try to model your game after?
Well, on the court, Derrick Rose, but, off the court, I'd like to model myself after LeBron James with the camps and helping young people in the community.
What do you think is the key thing to having or developing good court vision?
Keeping your head up and looking for the big man, if possible. If he's open, you've got to find a way to get it to him or penetrate and drop it off. I don't want to be one of those guards that tries to just force a shot. As a point guard, you're supposed to distribute the ball. That's my job.
How has the experience been "playing up" in age groups?
It's been good and challenging. I think that if I just played in my age group all these years that I would've been a little lazy and I didn't want that. I've liked the challenge. I feel like every time out there, I have to give it my all.
How does the EYBL compare to your high school league?
In high school, you can get away with the little stuff, but here you can't. It's constantly challenging. In high school, we'll sometimes play against some players who could be on the circuit, but not on this constant level. High school really hasn't been that hard.
What would you like the audience to walk away knowing about you?
That I'm humble. I don't like to talk about myself. I try to be of service to others in any ways that I can help.
Community service
Yes, sir. I've done community service. I also used to play football. I was a quarterback and strong safety, but I used to be pretty good at it.
Who are some people that you'll turn to for guidance in a college decision, whenever you do decide?
My high school coach, Coach Bowlin, I love him. I feel like whenever I have problems, I can come to him with anything. He always helps me out.
I assume your father.
Oh, yes, my dad and also my mom and my family. That's my guidance. 
Thank you very much, Joel.
My pleasure, sir. No problem. [/private]