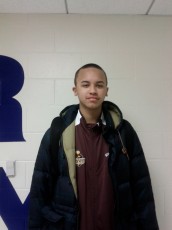 BDN's Andrew Slater caught up with prospect Kyle Anderson [6-8, 218, SF, St. Anthony's].  Anderson is considered a versatile talent who needs to add strength.  He ranks 18th in his class by ESPN and is higher in others rankings.  Anderson is capable of playing 3-4 positions at this level and next, Anderson's style and combination of skills is very unique.

Can you talk about playing for Coach Hurley and what, if any adjustments that you've had to make in transferring to St. Anthony's? I'm sure you get asked this a lot, but I just wanted to hear it directly from you.
Yeah, yeah, it's great playing for Coach Hurley. He always shows that he cares a lot, you know. Everyday, he goes out there and gives one hundred percent and so it pushes players to go out there and just play every possession. It helps us, you know, be ready and play hard against our opponents. He's always been a passionate man.
 Another [private] person was waiting outside the locker room and thought you guys lost.
 No, no, a loss would've been much, much worse.
Yeah, I know. God forbid, if you guys lost, I would've been running upstairs. (laughing)
No, I wouldn't have blamed you. What was the other part of the question?
I was wondering what adjustments did you have to make when you entered this program.
 Oh, sure, adjustments were like running the floor a lot more, you know, playing both ends more effectively.
 It probably helped you also adjust by having Myles (Mack) come over as well.
Yeah, it made me feel more comfortable…having him come over here too.
Have you seen St. Pat's yet this year and how do you think that you guys match-up? I think it's going to be a good game. I haven't got a chance to see St. Pat's in person yet, but..
Yeah, I didn't know if you caught one of their games or saw them on television.
Yeah, actually, the only game I've caught of theirs was the one on ESPN against Winter Park. I think it's going to be a good game. I think we match-up perfectly against them, you know, frankly.
People are always interested in recruiting. What's the latest in your recruitment?
Sure, I'm not really thinking about it too much right now, especially at this point in the season. I've got a lot of good programs interested in me. I've got a lot of the ACC and Big East programs, like Georgetown, Villanova… a couple of Pac-Ten schools, UCLA and Arizona, you know.
 In the ACC, Virginia and Virginia Tech have been pushing and several others have shown some interest.
Actually, Pittsburgh has come on a lot lately.
Do you a time frame for when you'd like to cut down on your list or choose your program?
Yeah, I'd like to decide before the next high school season.
What position are most schools recruiting you for? I know this is another issue, if you will, that seems to be discussed about you a lot more than most players.
(laughs) Yeah, yeah, yeah. Some schools are recruiting me for their point guard. Some schools are recruiting me for kinda like a forward Like a 3?
Yeah, or a step-out 4. Do you like that? What do you prefer to play?
 I haven't decided what I'd like to play in college, but, whatever position I decide, that's going to be based on which school I decide to go to.
Let's talk about visits. I'm always hearing about you visiting some school or seeing you at a game. Which ones have you made and which ones do you have planned?
(laughs) Yeah, sure, Villanova, Xavier, UCLA, Seton Hall..that's it really.
 Any upcoming ones?
No, not really. Oh, yeah, and I've been to St. John's too. That's it.
What are going to be the important factors in your decision?
That's a tough one.
What are some of them, not necessarily all?
A good history with the coach, you know… like what type of players he's developed.
So the guy's got to have a track record?
Yeah, yeah, definitely
What about distance? Is that an issue for you? Some have said you wanted to stay local, but it doesn't seem like a big deal for you any more.
Yeah, exactly, distance, at first, was a problem. I didn't want to go too far, but now I'm thinking distance wouldn't be a problem.
Who are some players that you feel you're really close with?
In high school, you know, Rodney Purvis, Quinn Cook, Quincy Miller, LJ Rose, Tony Wroten, a lot of people. What's the connection? Just running into the same faces in the relatively small circle of AAU. Those guys, outside of maybe Rose, are all pretty outgoing guys.
Yeah, you know, just being on trips with them. We've developed a good bond with them. Just practically doing everything in life together, from playing basketball to hanging out to eating.  On the college level, (USC point guard) Jio Fontan. Sure. I looked up to him forever 'cause I've known since we were very little.
Would you say he's one of your role models?
Yeah, that's probably like my biggest role model.
How does he like it out there?
He likes Cali, but I'm sure there are times when he wants to come home. (laughs)
Who do you turn to for guidance these days? Your dad's always been a big part of your life and now Coach Hurley.
Yeah, I'd say my father and my mother are the number one people that I turn to for guidance.
In terms of a decision like selecting a college, will they be the two people that you'll be turning to?
Yeah, pretty much my immediate family. My two brothers, my two sisters, and my mother and father.
I know your two brothers are older.
Yeah, I'm the youngest of all. So, you're the 6'8" baby of the family. (laughs) Yeah, and I look up to all of them..so to speak.
Now, I know your dad coached with St. Peter's and the Playaz. Did anyone else play in your family?
 Well, one of my brothers played football for UConn.
 Oh, really. By the way, does that help give them an insider's edge? (laughs)
 No, no, no. He's always telling me to go up there, but, no, it definitely doesn't give them an edge. Not at all.
There's been a lot written locally, mostly by (Adam) Zagoria, that you want to play locally. We touched on it before, in terms of distance being a factor, but you indicated that wasn't necessarily the case. Can you touch on the appeal of playing locally and how much of a factor that might be?
It would be great to still play locally because I'm a big "home" guy, but, in the end, I really don't think it's going to play much of a factor in my decision.
Thanks, I just wanted to know directly from you on that one because he's seemingly always writing about that angle.
Yeah, yeah.
Now, with friends and teammates like Myles Mack (a Rutgers commitment and his HS teammate at both St. Anthony's and Patterson Catholic) or Fuquan (Edwin) and Jordan (Theodore), do those give you any pressure or encourage you to play for Rutgers or Seton Hall?
No, they don't really pressure me too much.
Just low pressure?
(laughs) Yeah, yeah, they don't really pressure me, but it'd be cool to play with them.  Sidebar - A fight almost broke out near by during the interview, that's what you may miss when readin a couple of questions which could seem odd.[/private]