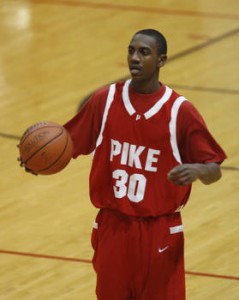 Marquis Teague (Class of 2011, 6-1, 170, PG, Pike H.S., Indianapolis, IN) is a slick point guard prospect who makes those around him better with his ability to get them into the game.  Teague has a high level skill set and is playing AAU ball for Indy Speice.  He is the brother of Jeff Teague at Wake Forest.
Can you tell me your list of schools?
Louisville, Ohio State, Purdue, Cincinnati and Wake Forest
These schools have offered?
Yeah
Have any other schools become interested or come in of late?
Michigan State and Syracuse have been calling me.
Did you have a dream school growing up?
Not really, oh, I used to want to go to UConn.
When you finally make a decision who will play the biggest role in helping you?
Just me and my parents.  We'll just talk about it and where I could see myself playing and how I could fit in.   My parents will help, so ...
If you were to describe your game for someone who had never seen you play, how would you do that?
I would just say that I'm a leader who likes to lead the way.  I'm a strong dribbler who is fast and can get to the hoop.  Iv'e been hitting my outside shot now, so ...
What do you do off the court?
I like to play video games, eat, chill with my friends and have fun.
When will you make a decison?
My Dad and I will sit down and discuss it and we'll make it in June.
Are you still open to other schools comig in at this point?
Yeah.  I will keep my recruiting open until at least June.