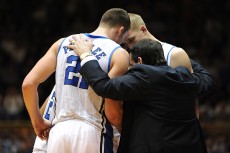 Duke toughed out an important ACC win over Virginia on Thursday night pushing it's conference record to 2-0 in league play.  And the reason they got the win?  Defense.  Coming into the game all the media outlets were talking about the Virginia defense and slept on the Blue Devils.  In fact, some admonished them for being ranked lower than seasons past. Tonight, Duke held Virginia to 29% shooting in the second half and they also held them to just 0 of 11 from the three point stripe and that allowed them to come away with a hard fought 61-58 win.  When the going got tough in ACC play, so did the Blue Devils defense.
Juniors step it up
The Blue Devils contingent of juniors stepped up big tonight.  Mason Plumlee earned great praise from Krzyzewski in the post game interview and ended the game with 12 points and 7 boards, but he altered a lot of shots.  Ryan Kelly added another 9 points and 7 boards and 3 huge blocked shots., while Seth Curry added 11 points a couple of dimes.  But Andre Dawkins was huge in the early going and he too went for double figures with 10 points.  Krzyzewski said it was Dawkins best overall defensive game of the season and that's high praise.
Plumlees earn Krzyzewski's praise as well
Miles fouled out and scored just 4 points but he helped on the defensive end against ACC POY candidate, Mike Scott.  After his 16 first half points, the brother Plumlee held him to seven in the 2nd half. 
Defense
Defense has long been a staple of the Duke program and tonight it was stellar.  The game was not as close as the score indicated in the 2nd half mainly due to missed free throws where Duke went just 8 of 19 for the game.  If those free throws drop, Duke coasts. 
This and that
Duke won it's 19th straight ACC home opener and improved to their steak of ACC home wins to 44 straight, the last loss coming to UNC.  Duke is now 3-1 against top 25 teams this season.  Did you know that Duke is only the second team to score 60 or more on Virginia this season?   They were also the first team to shoot 50% or better from the floor against Virginia.  Duke used just eight players in the contest for the second time this season.  Did you know that Andre Dawkins tied the game four times tonight?  The 60 points combined by both teams was by far the lowest in Cameron this season.  Mason Plumlee made his 37th straight start at Duke and freshman Austin Rivers scored in double figures for the 13th time this season.  Duke next plays at Clemson at 6 p.m. on Sunday.