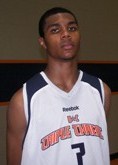 The Duke Blue Devils received a verbal commitment from Michael Gbinije, the 20th rated prospect in the Class of 2011 by Prep Stars.  Gbinije is a solid addition for Duke making him the first player in the 2011 class to commit.  Gbinije is a 6-6 WF who plays his high school basketball for Benedictine in Richmond, Virginia which is about 2.5 hours north of Durham and as you will read, proximity played a role.
The Blue Devil Nation caught up with Gbinije and got his thoughts on wanting to play his collegiate career for Coach K at Duke -

Duke fans got a present just before what they hope is another one, that being an  ACC Tournament Championship on Sunday.
"I decided early this morning that I was going to do it.  I was really excited and  called Coach K after practice to tell him the news," said a happy Gbinije.
That news would later [private] trickle out via a Quincy Miller tweet.  Miller of course is another 2011 target for Duke.  We quickly confirmed Millers tweet and we eluded to the fact that this one could close fast in our recent recruiting update.
Duke now has it's first verbal in the class of 2011 and Gbinije is good fit when one ponders future rosters.
BDN asked Gbinije to describe his game in his own words and he  was straight and to the point, "I'm kind of smooth, a team player and I can shoot."
That description and the fact that he is a 6-6 wing reminds one of a current Duke Coach named Nate James.  The Dogg as he is known to some, was the lead recruiter for Gbinije.  In fact, Gbinije is the first notch in James belt but certainly not the last, but more on that later.
"Just playing for Coach K and the competitiveness ...  going to a place where I can improve," said Gbinije when asked his reason for wanting to become the latest future Blue Devil.
Gbinije had left Duke feeling good about the Blue Devils after his weekend visit.  He mentioned the atmosphere in Cameron where Duke walloped North Carolina 82-50 this past Saturday.  Gbinije said it was a unique experience and then emphasized that it was very loud!
The 2011 prospect returned home and talked to his parents about the visit and mentioned that they were very impressed with Duke and Coach K.   "My parents liked Coach K and the campus environment and with it being close to home was a factor as well," said Gbinije.
I then asked how he would fit in at Duke and Gbinije answered, "Coach K said I would fit in perfect and he was very excited and  happy when we talked.  He is kind of in the focus mode of coaching right now and making sure they are prepared for their main goal is winning.  We had a good talk today."
When asked for a closing comment, Gbinije said  "Oh yeah, I'm  real excited but at the same time, I realize it is Duke and to come in and play right away I have to work on my game so I'll be ready when the time comes."
That sounds like a player who already gets the Duke system.
Sidebar- Gbinije mentioned that he would once again play for Team Takeover on the AAU circuit and you can bet the Bule Devil Nation will follow him at several events.  He likes to play video games, especially Call of Duty.  [/private]