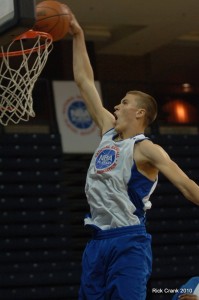 CHARLOTTESVILLE - One of the big men garnering attention in the class of 2012 is St. Marks Kaleb Tarczewski who is looking like a true post player.  By that, I mean he is penciled in by most as a center.  Tarczewski first caught my eye in Orlando during last season AAU Nationals where he scored 28 point in a game where my intent was to watch Alex Murphy for the first time.  Since that time, it was clear to me that he had a great deal of potential and one thing for certain is that you cannot teach height.  I saw Tarczewski again during the Tournament of Champions and it was clear that he has a lot of potential if he continues to work hard.  Coming from a solid AAU program and having good high school coaching will certainly aid the process and it's no longer a secret that he is being sought after by the likes of Kansas and Duke.  Having talked with Tarczewski a couple of times prior to this past weekend, he is comfortable with me which is evident in the following in depth interview.
Kaleb, you're of course in the class of 2012 and play with another Duke prospect in Alex Murphy in AAU ball and at St. Marks as well.  We're here at the NBAPA Top 100 Camp and I'd like to know what it's like to play in a structured camp like this?
I was kind of nervous on the plane ride down here and this is one of the biggest events I've been to and it obviously has some of the best player in the country.  Being younger than everyone is kind of nerve racking but I've calmed down a little bit and just want to play some good basketball.
You just had a pretty good game and went up against Isaiah Austin and Tyler Adams.  What was it like playing against them?
I've played against Austin before in an AAU game so I knew how he would play.  You've just got to go out there and work harder than your opponent and you'll be fine.
Each time I've seen you progress is evident and I like that you don't back down inside.  Is that just inherit to you or your nature so to speak?
Yeah, I mean I love fighting on the block and that's what I do and I know that's what I need to do to be successful and I'm willing to do that.
The last time I saw you was at the Tournament of Champions Event.  What have you been doing since that time?
I went to the [private] Kansas Elite Camp and I got to work with Danny Manning and that was really,  really good.  We went over work angles and working the post and that was a great experience and I've been working a lot at home with Coach Carrol as well.
Kansas is high on your list, right?
Yeah.
And they've been recruiting you the longest?
They kind of started this spring, so it hasn't been too long.
Are any other schools coming in?
Yeah, tons of schools.  I've gotten so many calls the past few days so it's really opening up.  I don't really have a list yet.  It's very early in the process.
When you do make a decision who will play a role in that?
I kind of have a lot of people.  My basketball family has gotten pretty big.  Alex's Dad, Mr. Murphy, he's really gotten into this so he's going to really be effecting my decision.  Mitchell Lubick, my high school coach at St. Mark's and my sponsor T.J. and my family too.
And you're really tight with Alex as well, right?
Yeah.  Me and Alex have become pretty good friends,  We've been playing AAU ball together for two and a half years now.  Right when I started out playing, he was always there and of course, we go to school together.
Have you been hearing from any ACC schools of late?
Yeah, Duke and Virginia.  I talked to Coach K and talked to Virginia.  I will be going to Boston College's Elite Camp.  When we were in Atlanta, Georgia Tech showed interest and I got to meet their coaches.
Do you think you'll take all five official visits?
Yeah, most likely.  I want to see as many schools as I can and traveling with AAU helps me do that.
Now, you told me last time you've only been watching college basketball for one year, is that right?
Yeah, just this past year.  It's kind of new to me so it's hard to make a decision until I become more familiar.
So, you'll take your time in the process?
Yeah.
Do you look at schools and how they develop kids for say they next level?
Yeah.  There are so many factors going into a decision.  One of the main factors that's important to me ... I'll go anywhere that I can get better and puts me in the best spot.  I mean, I really don't want to go too far from home but if I have to I will.  So, I'm looking for a place that makes me feel at home.
Is there an early leader?
No, not really.  Obviously, I go to huge school like Kansas and I'm blown away by it and obviously going to a Duke or North Carolina, it's like wow, it would be cool if I went there but you have to still just take a step back and see.
What do you do with your down time away from AAU ball?
[laughs]  I don't really have that much time, especially in the summer.  When I go home, I usually like to go to the beach or hang out with my girlfriend, mow the lawn. [smiling]
Yeah, it must be nice to go to the beach.  I'm out there about as much as you guys are and it's been hard to find time for one of my favorite places.
We're like the west part of New Hampshire, but we have a lake beside us and it's nice, so ...
Tell me something about you that nobody else knows?
Uh, I don't really know ...
Have you played sports other than basketball?
Well, I didn't start playing basketball until the sixth grade, but I didn't play in the seventh and my freshman year in high school, so I haven't really experienced basketball and in New Hampshire it's hard.  Every since I started play basketball I loved it and I stated out playing football with my stepbrother.  When I got taller, I knew basketball was something I could be good at and I really love the game.
You mentioned that you talked with Duke's Coach K earlier.  What did have to say?
It might have been the first day phones opened up [contact period] and he said we really like you and want to get you down here for a visit.
Did that sound good to you?
Oh yeah.  Plus they've got the Polish Coach, so .. [smiling]
Alex is taking a good long Duke as well.  He seems to be pretty high on them, is that what you see as well?
Yeah, Alex is really high on them. They're obviously not only a good basketball school but they are an good academic school as well.
You go to St, Mark's which prepared you well for college.  Is education important to you as well?
Very important.  I have a 4.0 [said with pride], so it's really important to me.  They can't take away your brain if you get injured or hurt, so you always have your brain to fall back on.
That's good thinking on your part.  Have you thought about what you might like to take in college?
Well, I have thought about engineering, but it's what ever the best fit for me is.
Now, Murphy's Dad played in the NBA.  Does he ever give you pointers and talk of what to expect?
Well, he gives me more like skills workouts and stuff like that and we try not to look too far into the future and stuff like that.  I'd never say I was going to for sure be in the NBA, so why bother with this or that.  To be honest, I have so much work to do before I get to that level I try not to think of it.
Well, you're doing a great job.
Thank you very much. [/private]