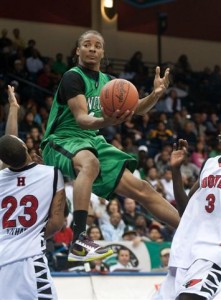 We continue our coverage from this past weekends NBAPA Top 100 Camp by getting to know west coast prospect Norman Powell.
Norman, you're one of the top prospects in the country here at the NBAPA Camp.  Can you talk about the experience thus far?
The experience here so far?  I really like it, you learn the little stuff which helps you get to the next level because the competition is as good as you are.  So you try and learn the little things which make you better.  I'm getting a lot out of the skills development.  Every time there is a chance I can get in the gym, I'm in there.  Working with a coach or trainer or whoever, I am in the gym two or three times a day.
Suppose somebody had never seen you play.  How would you describe your game in your own words?
I'm a fast break guy, athletic, contribute, create, score, drive and kick, aggressive, loves to go to the basket.
Let's talk about the recruiting process for a moment.  What schools are seeking your services at this time?
Right now?  Arizona State, Arizona, UCLA, USC, UTEP, Washington State, Kansas and Oregon.
That's a lot of west coast schools.  Would you ever consider going east?
Yes, yeah.
Are you interested in any ACC schools?
I'm actually interested to see if Duke is interested in me.  I'm trying to work very hard and get them interested.  So maybe they would offer me sometime soon.
Have you talked to anyone from Duke?
Not yet.  The communication goes through my AAU and high school coach.
When will you get serious about your collegiate decision?
After July.  I don't plan to make a decision until after my senior season.  I'll wait and see what develops.
Do you watch or pattern your game after and players be it NBA or college?
Kobe, LeBron, Jennings, Wall, the main players.  I just want to develop my skills.
Growing up it was USC. My uncle is a big USC fan as is my family.
Really my uncle got me in the gym working out.  I wasn't that good growing up but I kept working and have a feel for the game.  He worked on getting me trainers and getting me into AAU.   That's what I consider my love for the game.
Do you have what you consider to be a go-to move?
Tim Hardaway step back, three in the face.
Five seconds left in the game, your team down two, the ball in your hands.  What are you going to do?
Top of the key.  It goes in no matter what, I practice and hit that shot all the time.
A little background ...
I grew up in San Diego, Cali.  I love competition going at people.  I don't ever back down, bigger, smaller, bring it, caring, open to learn.  It's school first and basketball second.  I am in a study group and my mom works wi.h me.
Thanks for your time and good luck.
Thanks
Coming - Marcus Paige, Perry Ellis, Rodney Purvis [/private]