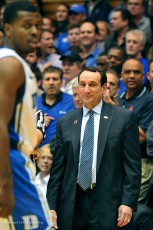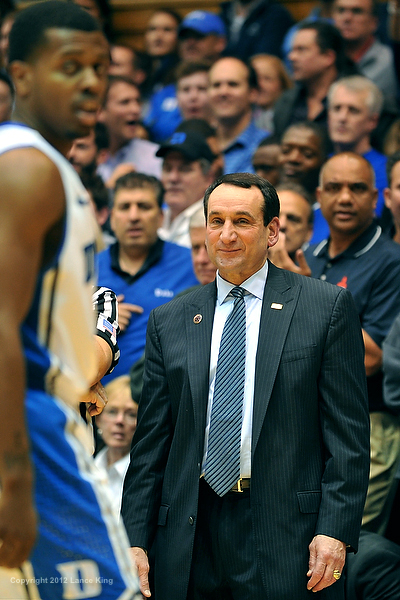 It took a half for Duke to adapt to the physicality of the game, but adjust they did, and that resulted in a 73-68 victory over Ohio State in a rollicking Cameron Indoor Stadium. The Duke guards came alive in the second half and that, combined with another herculean effort from Mason Plumlee, led Duke to its seventh win on the young season, helping the #2 rated team remain undefeated.
Mason Plumlee now All-Time Dunk Leader at Duke
With four dunks, Mason Plumlee has more flushes than anybody in the history of Duke Basketball, surpassing Robert Brickey for that honor. His play prompted Jeff Goodman to tweet that Mason is now the front-runner for National Player of the Year. Plumlee scored a game-high 21 points to go with 17 rebounds in yet another outstanding performance, one which may finally earn him overdue ACC Player of the Week honors. Plumlee has started in 58 of his last 61 games at Duke and has an ACC-leading four double-doubles this season. He became the 17th player in Duke history to reach 700 rebounds tonight as well. When asked about the Blue Devils' early season success, Plumlee stated, "We love it. The schedule at Duke is part of the reason you come here and I think this team has embraced the schedule and the challenges we've had."
Rasheed Sulaimon erupts in the 2nd half
Duke freshman Rasheed Sulaimon earned high praise from Coach Krzyzeswki in the post-game press conference. On a night when Seth Curry struggled with his shot, Sulaimon's 17 second half points were vital in the Duke win.  Sulaimon is quite cool under pressure and never seems to let anything get to him, including a first half where he did not score.  He's hit at least one three-pointer in each of the Blue Devils' seven wins. "Coach told me to step it up (at the half). My teammates just trust in me. I wanted to step up for my teammates, and when he called my number I was just very aggressive and delivered," said Sulaimon.
Quinn Cook has another solid effort
At the half Quinn Cook had 2 points and 2 assists. He ended the game with 12 points, including 6 of 7 free throws down the stretch with the game on the line, as well as totalling 8 assists. But his biggest stat was his six defensive rebounds. Cook also hit players like Mason Plumlee for huge momentum-changing buckets, including the ESPN Play of the Day, a thuderous one-handed dunk on the break. "Quinn played a great game. He was up against one of the  best point guards in America (Craft). An amazing stat for Quinn was his six defensive rebounds," said Krzyzewski when asked about Cook.  Quinn has turned a corner with his play of late, and he's stepped up to the plate for good this go round.  The Blue Devils have turned over the keys to Cook this season, and he seems to be relishing the role of being the starting point guard at Duke.
Steady Kelly
Ryan Kelly knocked down 3 of 5 three-pointers and those came at big moments in the game for Duke, and he finished with 15 points. Krzyzewski praised Kelly in the post-game as well, saying it was his best game of the season. Kelly's back-to-back three-point shots in a 40 second span brought the Crazies to their feet and helped swing the momentum in the Blue Devils' favor after they had trailed for almost the entire game.
Recap
Mental toughness and resolve helped Duke win this game. The Blue Devils weathered a first half performance where they struggled to get shots off and in the second half locked down much more on the defensive end. Mason Plumlee was the best player on the court and he imposed his will at times, and that was needed on a night when Curry was a bit off or possibly hurting from his shin issues. Duke is Final Four material on November 29th and they can get even better. They have games coming up where they can develop their bench, which scored just four points against Ohio State, and will soon get Marshall Plumlee back from his foot injury as well. Duke has gone up against the nation's best and has passed all tests with flying colors, having defeated three of the four teams from last year's Final Four already.  Add to that wins over Minnesota and Virginia Commonwealth and this team is more than a little battle-tested.  And the most recent four wins have come in just seven days. More importantly, the team chemistry is as good as it's ever been, and for that to happen this early in the season is a testament to the staff's off-season adjustments.
Game Notes
Duke has now won 97 consecutive non-conference home games.
The Blue Devils have now defeated three top five teams this season.
Duke improved to 12-2 all-time in the ACC-Big Ten Challenge.
The Blue Devils have started 7-0 for the third straight season, and have won 56 of their last 57 games played in November.
Duke improved to 111-16 when ranked in the #2 position in the national polls.
Against Ohio State, Duke trailed at the half for the first time this season.  Four Blue Devils score in double figures and the game marked the fifth straight in which Duke has used the same starting lineup.