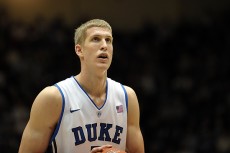 The Duke Blue Devils kicked off the 2012-13 basketball season with a 74-55 victory over Georgia State in Cameron Indoor Stadium. The Blue Devils were led by senior co-captain Mason Plumlee, who scored 19 points and grabbed 14 rebounds in the win.
Duke Offense struggled a bit
Coach Krzyzewski said that the Georgia State defense had a lot to do with the Blue Devils not being able to get out on the break. The Panthers threw a lot of different looks at Duke, including half-court presses, junk zones, and occasional man. Duke shot the ball well but only got 47 attempts, which is a fairly low number.
Defense was solid
We mentioned in our preview that Duke would try to slow Devonta White and R.J. Hunter, and for the most part they did so. Hunter scored 14 points but he had averaged 25 ppg in his first two contests. The Duke defense allowed just 4 assists total for the Panthers. Duke also held its opposition to under 40% from the field.
Mason solid but can be better
In the post-game locker room Mason Plumlee told BDN that he left some points on the floor, and Kryzewski said the same thing. He was referring to some late passes which went astray but Coach K also commended Plumlee for moving the ball properly, emphasizing that his teammates had to move once they delivered him the ball. Mason ended the game with 19 and 14 and was interviewed by ESPNU after the contest.
Tyler got the start
Tyler Thornton is never a player some fans talk about as a starter, but his defensive skills prompted Krzyzewski to start him, and he answered the call with 13 points. Thornton drew the defensive assignment on the taller Hunter for much of the game. Thornton told BDN that he tries to be a steadying influence for this team, and I think that quality will continue to earn him burn. For the record, this was Thornton's 14th consecutive start.
Seth Curry plays well
Curry has battled a pre-season injury and therefor has only practiced a couple of times with the team. Seth told BDN that he was happy just to be on the court and he actually did a good job of getting his rhythm back, which is important going into the big game with Kentucky on Tuesday night. Physically, Coach Krzyzewski said the staff would have to wait and see how Seth responds tomorrow.
Quinn Cook comes off the bench
Cook was the first player off the bench for Duke, and he will get some starts before all is said and done. Kryzyzewski cited matchups as the reason he went with Thornton from the jump.
Notes
Duke won its 95th consecutive non-conference game in Cameron and is now 79-29 all-time in season openers. It was the 31st consecutive season opening win for Duke. Duke went on a 13-2 run at the 7:34 mark of the first half, turning a 17-15 lead into a 30-17 advantage.