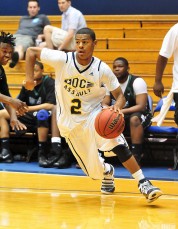 This interview was originally posted on BDN Premium on 7-31.  This is a free-view of that interview that was conducted by fellow BDN recruiting analyst Andrew Slater. We hope you will compare this piece to others offerings and then try our subscription section for yourself. 
As the point guard for DeMatha, Quinn Cook led the Washington area Catholic school to a City Title and a Washington Catholic Athletic Conference Championship, earning the Washington Post All-Met Player of the Year award as a junior. In July, Quinn helped lead the United States to a gold medal, including dishing out a team-high eleven assists in the Championship game against Poland, at the FIBA Under-17 World Basketball Championship in Hamburg, Germany. Before leaving for Germany, Cook made the decision to spend his senior year in Mouth of Wilson, Virginia at national power Oak Hill Academy, whose long list of alumni includes Duke guards Nolan Smith and William Avery.  After playing in front of Duke coach Nate James at the recent Adidas Super 64 tournament in Las Vegas, Quinn spoke with Blue Devil Nation about his decision to transfer from DeMatha to Oak Hill, changing others' perceptions of him through his play with the USA Under-17 team, and Duke's interest in him, among various topics.

What was the experience like being part of a gold medal winning team in Germany?
It was a great experience. I got to play with a lot of great people in my class. Players like Marquis Teague and players like that so it was just a wonderful experience competing and playing for the national team and being able to win the world championship. It's a blessing, but it was a lot of hard work. We didn't want to be outworked.
What did you do with that gold medal after you received it?

I gave it to my mom. So, I guess she's going to put it in her room.
Obviously, your father was very important to you, what do you think he would of thought of you winning the gold medal and did you think about what his reaction would have been after you guys won the gold medal?
Without him, I wouldn't be here. He was the one who put the basketball in my hands. I just try to honor him and his name and his character not only when I'm on the court, but in the time when I'm away from the court. I want people to see him when they see me out here or in the community.
Who are some guys on the team that you became close with over the time spent with the team?

I tried to get close with [private] really everybody on the team and just, you know, establish relationships.
Were there one or two guys that you were particularly close with?
Oh, yeah, Marquis Teague and Tony Wroten. We definitely were real close on the team. We definitely became real close. We hung out and stuff.
I know you're a big Kobe guy. What did you think of the whole LeBron announcement and decision?
Well, I respect his decision. I can't knock him for wanting to win a ring. You know he's in Miami where he's now with D. Wade and that's a pretty big and bold move, but he still can't beat Kobe. He can't. Not yet, at least.
You're moving on to Oak Hill. What went into that decision? Are you excited about it?

I'm very excited about it. I get to play with some great players. It was just, um..
Too many distractions?

Yeah, that's a good way of putting it. There were just too many distractions and things going on. My mom is a single mom, man. You know I don't really have that strong male figure in my life and, you know, Coach Jones was that. I'm blessed for that, but there was, well, you know, a lot of drama going on. Plus, on the basketball court, I don't feel like I like I have anything left to prove in the DC leagues.
Yeah, you're the first junior to win the player of the year in more than four decades. Now you're going to be playing a really national schedule for Oak Hill and more games as well.
Yeah, definitely, the schedule is going to be a challenge, but it'll make me better in the long-run. I also think that Oak Hill will get me ready, both on and off of the court, playing away from home and my mom and everybody else will help become more of a man. Just becoming a man and being by myself.
I do think it will help with your adjustment for college. Not just at Oak Hill, but a lot of guys that have gone up to the New England boarding schools and have gotten away from the distractions have come out better prepared for college life and basketball. When do you head to Oak Hill?
I have no clue. (laughs)
Well, what are your goals for this season? A National Championship? McDonald's All-American?
Undefeated. I'd love to go undefeated. For me, personally, in order would be to be the national champion, to be a McDonald's All-American, Jordan Brand All-American, and then to make the Nike Hoops Summit.
What's it like to have Sidiki (Johnson) join DC Assault before you guys play together at Oak Hill?
I think it's been great to have him join us so that we can establish some chemistry before we play at Oak Hill together. We're both coming in as seniors and so we don't have a lot of time to work on that, but this will help.  We played together at the Pangos (All-American Camp), but this is another level.
Has he been talking to you about joining him at Arizona?

Not too much really. He's been cool about it. He obviously wants me to go there, but he's not pushing anything.
Are you going to take all five of your visits?
Yeah, I don't know which five schools I'm going to visit yet, but I do know that I'd like to take all five of my visits.
At this point, what are your schools?

I've got ten schools right now: Villanova, Duke, Wake Forest, NC State, Arizona, UCLA, West Virginia, Rutgers, St. John's and Georgetown.
Okay, do you have a timeframe for when you'd like to decide by or cut down on your list?
I want to decide by the fall, but I don't want to rush just too quickly into anything because, you know, it's a big decision. It's probably the biggest decision I'm going to make at this point in my life.
I understand. Do you think you opened up a lot of eyes by how you played over in Germany? The fact that you were more of a distributor than a scorer, as you have been asked to be for both DeMatha and your DC Assault team. Wrongly or rightly, some seemed to think that you're more of a gunner, but then you led the USA team in assists.
Yeah, definitely. Well, I mean, I hope so because I've always been a pass-first point guard, but, with both of those teams, they've asked me to score more for us to win and so, you know, I have, but, believe me, I love to pass the ball and get others involved. I'll do whatever my coach feels he needs me to do to win. I'm just trying to be helpful. Whatever my coach or my team needs me to do, I'll do. No doubt. So, yeah, I hope it made people realize there's more to my game than just scoring or whatever people thought before.
Yeah, I remember somebody you know told me that was how you felt about eighteen months ago and you were able to be more of a distributor when you were younger at DeMatha. At this point, what do you think will be the most important factor in your decision for college?
My relationship with the coaches is definitely number one at this point. I just want to feel comfortable with them and have them feel comfortable with me. After that, everything else can take care of itself.
You've played against probably every other top player in your class, at some point or another. Who are some other guys that you really walked away respecting or were really good challenges for you?
Johnny O' Bryant. The guy works his tail off and gave max effort. Johnny, yeah.
What about other point guards? Anyone stand out?
Oh, oh, oh. Marquis Teague is probably the toughest offensive point guard to check and Tony Wroten is tough too, with his size and everything.
For a player your age, I always think that you have a high basketball IQ. You try to make up for what others may have in height and quickness with your mind for basketball. Have you thought about getting into coaching after your playing career is over?
Hopefully, after the NBA, yep. I want to make the NBA and play as long as I can, but, after that, yeah.
Now, I know that you were a North Carolina fan growing up, but now Duke is recruiting you. You obviously know and are friends with a lot of the guys in the Duke program now, though.

Yeah, but I cheered for Duke. I mean even growing up, even though I was a North Carolina fan, I always respected Duke and what they accomplished and Coach K.  Now, I mean they have a lot of guys that I know and am close friends with too. I like Duke a lot.
So, you weren't one of those guys that felt they had to hate Duke because you liked North Carolina. Who, on the coaching staff, have you spoken with most?
Well, both Coach James and Coach K. Those are the two that I've spoken to most. I spoke with Coach K probably the most.
I saw Coach James watching you today. What have they said to you?
Yeah, I saw him too. They're very interested in me because, well, you know, um, they're highly interested in me and we'll go from there.
What do you feel that can immediately bring to a program?

Toughness. Definitely toughness. I'm not the fastest or biggest or strongest guy, but I'll out tough my defender and beat him with heart. My heart and toughness is as big as anyone's.
What's one thing that fans don't know about Nolan Smith?
That he and Mike Beasley are like my Godbrothers and mentors. He's helped me with my situation with my father as much as anyone. I'll always be grateful to him for that.
Yeah, I saw Nolan last night at the Wynn.  He's obviously helping the USA team, but I'm glad that he was so helpful to you. Thanks for your time, Quinn.

No problem. No problem.