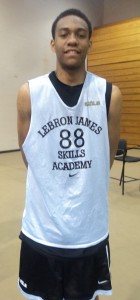 Since last we profiled Chicago's Jabari Parker, he has led the United States to a Gold Medal at the FIBA Americas 16U Championship in Mexico, where the 6'8" wing was named the MVP of the tournament. Over the past month, Parker stood out against the nation's best at the LeBron James Skills Academy and helped take his relatively young Mac Irvin AAU squad deep into several tournaments including the Peach Jam, Fab 48, and, most recently, into the finals at the Desert Duel.
Recently, Jabari spoke with us about a variety of issues, including his USA Basketball experience, his recent profile in Sports Illustrated, and a scouting report on some of his recent teammates, who also have received recruiting interest from Duke.
What schools are you considering?
Kansas, Washington, Duke, Illinois, and Michigan State.
What's going to influence your decision when you choose a school?
The best program where I can fit in, a program where I can develop as an individual, both in basketball and character-wise.
[private]
(Other site) Chicago basketball, is that the best basketball in the country or what?
I would say in the country because, as a public school, we don't have the ability to recruit as the other schools do, so I always consider us one of the best high school programs in the country.
What did you learn about yourself at the academies?
I learned that these guys are just as good as me, so I have to work hard, I have to make myself stand out through hard work.
What do you feel you need to work on?
Not just being an individual, but being able to have your teammates play around you and it's not about one person...Just getting to loose balls and playing better defense, too, cause you know I can lag on that. And getting my jump shot improved, too.
What's it like playing in front of college coaches?
Not a lot of pressure, but, you know, I'm kind of used to it, but it's good because you know…
Do you find it makes you play or act differently? Do you find it motivates, excites, or even makes you a little nervous?
It makes me kind of motivated because I can show them what I'm not good at and show what I've improved on and lacking in skills.
Do you feel you've improved as a shooter over the past few months?
I've gotten better, but it needs some work. You know, I'm just getting in the gym and getting shots up. I'm not thinking about it too much, but just..
Getting comfortable with your range?
Yeah.
What was the USA Basketball experience like?
It was very good. It was very aggressive. It's kind of different from the States because they called a whole lot of ticky-tack fouls. In the national game, they let you be more physical where hand-checking is allowed.
How long does it take you to get used to the rules, etc.?
Well, it took me about a week. We practiced in Colorado Springs, so they had us learn the rules.
What about winning the MVP? It must have been exciting.
It was good. I was actually surprised because you know Aaron?
Yeah, Aaron Gordon..
He played well and just my teammates..they were just as good as me, so when I got it, I felt honored.
What were the highlights of the trip? The highlight was obviously winning the gold medal, but other than that, I meant…
Yeah, but off the court, we went to Chichen Itza. It was one of the Aztec pyramids or something like that we got to see. It was like another wonder of the world. We got to see that up close.
Oh, that must've been a great experience. Forgive me, but what's the latest in your recruitment?
Missouri just offered me, Tennessee just offered me, and UConn, too.
Who's been after you hardest since that June 15th deadline?
Illinois and DePaul. DePaul has sent me a lot of things. They kind of get under you because they're the local school.
Have you enjoyed playing with Jahlil Okafor? He said he looked up to you. What's your relationship like with him?
Oh, that's like a little brother to me. Jahlil's very good. He's a really big person down-low that you can throw the ball down to. He's looking to be like me- one of the top players in his class. He's very dominant.
He had mentioned how you had slimmed down on your body and how he was going to try to do the same.
Yeah, with me and him, it's all about our bodies are different. Growing up, it's about eating the right food. You can't get away with taking a lot of days off.
Can you give the audience a scouting report on Theo Pinson?
Oh, Theo's very good. You know, without the ball, he can run the lanes very well. He's very athletic. He's just good for his age. He can do so much that other kids can't do at his age.
He's a very natural player.
Yeah, he's very natural.
What was the experience at LeBron like?
It went well. We did a lot of skill development, getting coaching from all different levels- from the NBA down to high school. You know, it just brings different views.
What sort of things did you learn?
Footwork, just different footwork… and skills as far as reverse pivots and face-up game.
Speaking about those five or six schools that you mentioned before, can you mention something about each of them?
Well, they each have great coaches, they have a long history, they've been able to win, you can also develop as a person too with them and you can trust them. I just like that the coaches there are all good.  I think I can fit into their systems well.
What makes you think that you can fit into their systems?
Because it's versatile. I've been scouting throughout the players they had and I'm similar to some of those players..the ones that are able to post inside and out and play the small forward position.
How likely is it that your schools are likely to change from here on out?
It's able to change, there are a lot of schools trying to come in, but you know, things can change, I guess. I just like those schools.
I guess I was just curious, but do you have a friendly rivalry with Julius Randle?
Well, you know, he's a very good player. You know, me and him are a rival on the courts, but me and him get along very well and we talk. We share words and we talk about schools. I just like being around him.
I know you guys are often associated on a national level.
Yeah, yeah.
In terms of visits, have you taken any recently? Do you have any upcoming?
I don't have any visits planned because, you know, I'll be busy. In August, I really don't know.
Who are some coaches that you've enjoyed talking to?
It was surprising to see Jim Calhoun, you know he just won the National Championship..and his interest in me being very high. He's always won national championships and he plays in the Big East.
Have you spoken with Durant and what advice did he give you?
I met Durant in Chicago and…
I remember you really looked up to him, I remember that he was one of your favorite players. I'm glad that you had the opportunity to meet him.
Yeah, he's a very good guy. He was always involved with us. He also worked with us individually as well. He also told us that we need to work hard and told me not to let my talent be wasted by not working hard.
Did you get to play against him at all?
Yeah, I got to play against him.
How did you do?
I did okay. He didn't really play to his full effort, but…
How far along do you feel you are in terms of your recruitment?
I think it's getting there. I think it'll be before my senior year. I'll be able to decide one day. Only time will tell.
(Kentucky site reporter) You mentioned Kentucky. You've gotten a little interest from Kentucky. Have they called you since June 15th.
Yeah, they called my parents and they didn't really give me any insight into what was said. They just said that they were very interested in me.
(Kentucky site reporter) Do you feel like you have an offer from them?
Not really, because I think that they're interested in other kids from the 2012 class. But Coach Orlando, he contacts my mom sometimes.
(Kentucky site reporter) What would be your interest level if they did come through with an offer?
It would be so-so.
Have you visited all five of them?
I have visited all but Kansas. I haven't visited Kansas yet. I've been away and at the camps. I haven't visited them yet.
Is that something you want to do or thought about?
Yeah.
Since we're getting near the end of the season, how do you feel you and your team are playing right now?
I think we're playing well, you know. We're playing well as a team. This spring, you remember we were struggling a little bit, when we were trying to get used to each other and our surroundings. Right now, we're starting every game strong and everybody is playing well with each other.
What is the importance for you and your teammates of going out with a bang…ending the summer on a high note?
I've been playing pretty well this summer. You know getting a lot of hard work in, between the Nike Skills Academies and the LeBron James Camp… and I've just tried to grow from there.
It translates also back to AAU ball.
Yes, it does. It really started from USA camp. We worked very hard from there and coaches there just said, you know, to play as hard today in practice as you will tomorrow in the games. We all tried to take that to heart, you know.
Speaking of USA Basketball, what was it like playing with Tyus Jones? How did he mesh with the team as your point guard?
Oh, yeah, it was really good group and Tyus was one of the best guards at passing. He really facilitated more than he scored for our team, but, you know, he could score anytime that he wanted.
In terms of watching tapes or games of older players, which ones have you enjoyed watching most?
I've actually enjoyed watching a lot, but recently I was watching the Boston Celtics against the Houston Rockets. I just loved to watch Larry Bird move around the floor and seeing how he stayed active and involved. Then, I've also been watching the Portland Trailblazers against the Nets or I mean the 76ers back when they had Doctor J and just trying to take from that and how they played hard and how they would try to get their baskets.
I saw you yesterday trying to incorporate the bank shot, which is sadly missing in a lot of the younger guys' games.
Oh, yeah, definitely.
What did you think of the recent SI article?
Yeah, it was real good. You know I appreciate it. The guy interviewed me and he thought I was a very good guy.
Yeah, well, you are.
Thanks, you know I'm just glad with the way it turned out and I appreciated his time. I'm just so glad that I had an opportunity to have an article on me and I never want to take it for granted.
How do you account for the improvement in your explosiveness? When you're dunking the ball, how much does the thought of igniting the crowd play into what you're going to do?
You know I just started to get a little more bounce.
Sure.
Yeah, and you know the weight going down has helped me a lot as far as being lighter and helping me stay in the air a little longer.
What about your match-up with (Kuran) Iverson? He's got a lot of tools too and he's around your size, age, and athleticism.
Yeah, I've got to say that he brought the best out in me. He made me play harder and not so sluggish. In the beginning, I thought he got the best of me and so I needed to come out strong for my team in the second half.
Thank you very much. It was great to see you, Jabari.
It was great to see you.[/private]