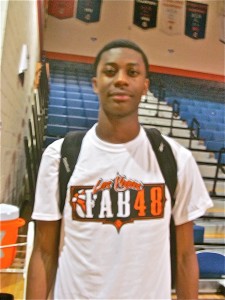 "Basketball never stops" is a current marketing slogan from Nike, but it also describes the kinetic lifestyle of elite prospects like potential All-American Robert Hubbs III. It's the price a young man pays for going from a local prospect to a regional target to a national recruit. This Saturday, Robert will be playing in the Big Strick Classic on 138th street in Manhattan, after scrimmaging the night before at the courts of Dyckman Park. It's more than one thousand miles away from his hometown of Newbern, Tennessee, a small town less than a two hour drive north of Memphis. For Hubbs, a high-scoring wing with a disarming smile, this is the culmination of a four month cross-country tour that has seen him raise his profile nationally, while garnering awards and hard earned college scholarships from programs such as Duke University.
As part of the coaching staff with both Dyer County High School and M33M AAU program, Robert Hubbs II has been working very closely with his now 6'5" 190 lb. son on skill development and helping to build his core strength. They work on taking roughly two hundred and fifty jump shots per day. It has enabled Robert, always an explosive athlete, to have the confidence to take deep three-pointers and it has forced defenders not to play as far off of him as they did in the past, when they primarily feared his penchant for attacking the rim.
In April, at the Jack Jones Shootout at the Briarcrest Christian School, Coach Mike Krzyzewski of Duke University saw Robert Hubbs III for the first time and, within days, the United States Men's Olympic basketball coach formally offered the rising senior an opportunity to be a Duke Blue Devil. Hubbs, a Lakers and Kobe Bryant fan, has steadily seen his rankings rise as he's performed well at such events as the Real Deal in the Rock in Arkansas, the Reebok Breakout Challenge in Philadelphia, the Best Buy Classic in Minneapolis, and, most recently, at the Fab 48 in Las Vegas.
Forming a potent one-two punch with friend and fellow Duke recruit 6'9" Austin Nichols, the M33M tandem utilized the pick-and-roll and high-low passing game effectively and consistently. Defensively, Nichols, a skilled, highly athletic forward from Colliersville, Tennessee, also provided shot-blocking with his 7'2" wingspan, while Robert Hubbs gave Coach Ernie Kuyper of M33M the coveted defensive versatility of being able to guard all three perimeter positions with his athleticism and length. Austin Nichols magnanimously said of his running mate, "Oh, he's a great player. He can run, he can jump, he can shoot the ball. He's a great ball-handler. He's just a great player overall. He's been great to play with."
Hubbs will be sitting down with his mother, Lesia, and father, Robert II, soon and trimming his list of potential destinations for college, but he'd like to play in front of a passionate fan base, as he has grown accustomed to with the Dyer County HS Chippewa, and compete for a National Championship.
We spoke about the recruiting process, his rapid ascent, playing with Austin Nichols, his explosiveness, and working with his father.
For others who haven't seen you play, how would you describe your game?
I like to attack the rim, get players involved, and make everybody, including myself, involved.
[private]
Jeff Borzello: What schools are coming after you hard right now?
A lot of SEC schools and couple of ACC schools. 
Jason Hickman: What schools have offered you?
Really, all of them. Well, all of the SEC schools, except for Kentucky and LSU.  Duke has offered me, Oklahoma State has offered me. A whole lot of them really. Gonzaga. 
JB:Who's coming at you hardest?
Probably Tennessee. 
JH: Has Auburn moved up higher on your list since they hired Ryan Miller as their coach?
Well, you know, Auburn is a good school, but I'm still wide open right now. I'm just taking it day by day. 
Which visits have you taken and what ones do you have planned?
I've been to Auburn, Mississippi State, Missouri, Vanderbilt, Memphis, and Tennessee. I don't have any officially planned yet. I don't know yet. 
Jason Hickman: When would you say was the point where you felt the attention coming towards you? Was there a turning point?
I would say in the middle of my junior year. I don't know if there was a specific event, I just kept playing basketball with the guys and just trying to get better every day. 
JB: What are you looking for in a school?
Championship contender, fast-paced, a team that you know can get up and down. I want to win some ball games. 
I saw you here last year. How has it been for you playing with Austin?
It's amazing. We've got great chemistry, we do a lot of pick-and-roll stuff. He's a pick-and-roll guy. 
I like the nastiness that he showed here.
Yeah, yeah. So do I. (laughs) We work well together, we just play hard every day. 
Obviously, there are some schools that are looking at the both of you. Have you thought about playing together in college? Have you talked about it? What do you think the odds are?
We've talked about it. I mean, it's just a different thing for me and him. 
Your handle has improved to the point where you can play more than one position. You can bring some versatility to a staff or a team. Where do you view yourself as a preferred position if you have a choice? 
I see myself as a two. I'd like to play a two or a three, but I prefer the two.
What are your strengths? What are your weaknesses?
Well, my strengths are, you know, I'm an attacker.  I'm a long-range shooter. 
Well, you had a lucky bounce on that forty-footer.
(laughs) Yeah, well, my dad always tells me to shoot deep because that's the only way you'll learn.
What are you trying to work on?
I'm trying to work on my strength. That's about it.
Is there a guy you try to model your game after?
Um, Kobe Bryant, Dwyane Wade, one of them.
You mentioned your range, but you look more comfortable shooting the ball.
I've been working a lot on shooting and training my shots since last year. I really used to not jump high enough on my shot. I think that's helped with my shot. It's helped my confidence. 
Well, you have such explosion.
Mmm hmm. 
Do you do a lot of repetitions? Do you take a lot of shots?
Yeah, I always take a lot of shots. I take a lot of shots with my dad. I take about 250 shots with my dad. 
Did your dad play at all?
Yeah, he did.
In college, too?
Yeah, in high school and then at an Arkansas college. 
That's good. 
Yeah, yeah.
The two schools that seem to come up a lot with you are Tennessee and Duke. What's the appeal of each? We'll start with Tennessee.
Well, Tennessee, they go to a lot of my games, so I like it. I mean, it's a good school. Duke is one of the best schools of all time, the best coach in Coach K.
Coach James is here. 
Yeah, yeah, Coach K is..
A little busy right now.
Yeah. It's a good school. 
What would you like to see from the programs before you decide on it? What do you hope to find in the programs that you ultimately decide upon? Do you have sort of a checklist? Like factors in your decision.
First, an education. I'd really like a good fan base school. I'd like passionate fans at every game. I'd like to see fans in the stands. 
You'd like to see it packed?
I'd like to see passionate fans and stuff.  
I was reading about how your fans at your high school, Dyer County, are really passionate and hyped. Is that true? I heard they travel around with you.
Oh, yeah, man, I got fans that travel around wherever we go, whether it's high school or AAU. They go everywhere. I'm fortunate. 
Who are some people that you will turn to for guidance, whenever you do make a decision? I assume your father. Who else?
My mom and my dad, really. Nobody really else.
That's probably best.
Yeah. 
You talked a little bit about it before, but what do you sort of think about all of this attention since you've exploded onto the scene? It's so much more than last year. It's got to be a lot to take in.
I really don't think about it. I just try to go out there and play hard every day, be the best player I can, and move forward.
How do you account for the improvement? Is it a matter of things coming together or maturity?
I don't know. I really don't know, man. 
When did Duke start recruiting you?
They started recruiting me at the end of April, I think. After the Real Deal. I don't know exactly.
How did it happen? Did Coach K see you?
Well, you know, we won the tournament and I played real well.  
Can you give a scouting report on Austin (Nichols)?
He's just like a good big man, you know. He's a pick-and-roll guy. He defends the rim and scores the baskets. 
What are you working on most right now? A lot of shooting? What's going on in terms of your workouts?
I'd say outside of getting ready for high school basketball, I'm just working on speed and getting stronger.  
Do you do a lot of running?
Yeah.
Who's been the toughest opponent for you so far? 
The toughest opponent I've ever faced is probably Jabari Parker, I would say, at the USA tryouts. Yeah, I would have to say Jabari Parker.
How would you assess your defense at this point? I think you've improved that since last year. You've always had the athleticism, but you seem more committed this year than last year.
I really feel comfortable guarding everybody from the 1 through 3, or even the 1 through 4 if I have to. I've just tried to work on my body so I could work against a smaller guard, then build it up so I can play against a bigger one too.
Defensive versatility.
Mmm Hmm.
What about your handle?
That's one thing I try to work on a lot. It's something that I've always got to concentrate on. You've gotta be able to dribble the ball anywhere. When I go with my dad to the gym or whatever, I work out. 
That's what I told somebody else that the kid's handle has  improved so much from last year, that now he feel comfortable being able to dribble anywhere around the court. 
Yeah. 
A kid in the stands wanted me to ask you what your vertical is? He heard that it was forty-eight inches.
(laughs) I really don't know. I mean they measured it at the Reebok camp, but really didn't tell me. (laughs) 
I'm not sure about that forty-eight inches, but, it's gotta be huge, though.
Yeah, yeah. (laughs)
Where do you think you got that explosiveness from? Genetics? Your father's work?
I guess both my dad and the weight room. I just work a lot on explosiveness.  We do a lot of drills to make me jump higher. 
What's your favorite NBA team? Are you a Grizzlies fan? You were wearing that Miami Heat shirt.
No, I'm a Lakers man. I'm a big Kobe guy. 
What would you like the audience to know about you away from the court?
I'm a very quiet guy, you know.  I don't go out...I stay at home and I play video games. 
Yeah, sure. What's your favorite basketball memory?
I really don't know. 
What's your current size?
6'5 ½," 190. 
What would you like to be in terms of your body by the time you're ready for college?
6'6" to 6'7" 210.
You mentioned before about speed, but in terms of strength and conditioning, what are you working on most? Maybe tell people about your regimen.
Well, in terms of strength, I go to the weight room..a lot. I do a lot of types of drills and stuff. Fast-paced, you know, getting stronger. 
What's your timeline in terms of making a decision?
I thought about November, but it's really in God's hands. We'll let Him work it out.
Thanks a lot, Robert.
Thank you.
[/private]