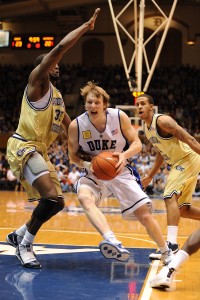 Durham, N.C. - The Duke Blue Devils swatted the Georgia Tech Yellow Jackets by a score of  86-67 and in the process moved to the top of the ACC with a 6-2 record, 18-4 overall.
Kyle Singler led the way for the Blue Devils with a season high 30 points, and 24 of those came from behind the three point stripe where the pre-season pick for ACC Player of the Year hit 8 of 10.
"Thirty points in this game or any game is big," said Krzyzewski.  He continued, "The motion is something we used to get Kyle moving better."
Kryzewski showed more of the traditional motion offense this evening and Duke flourished by hitting 12 three point shots.
Lance Thomas earned praise from Krzyewski after his effort led to a team high 11 rebounds to go with 2 steals and 6 points.
"Lance Thomas played a great game and was outstanding defensively," said Krzyzewski.
He was talking  in part of Thomas' defense on Zachery Peacock, who opened the game with 11 quick points and went scoreless the rest  of the way.
Duke forced 15 Yellow Jacket turnovers and, in the process, outscored their opponent 17-1 off them.
"I thought we were playing well on both sides of the court.  We wouldn't be 18-4 unless we played really well," said Krzyzewski when asked of his team's effort.
Jon Scheyer chipped in 21 points and Nolan Smith added 14.  Other than the big three, Duke players scored just 6 field goals, but contributed in other areas to carry Duke to the win.
The Blue Devils now face a quick turnaround as they head to Boston tomorrow for a 2:00 start on Saturday against the Eagles.
Stay tuned to BDN for more on the win and check out the post-game audio from Kryzyzewski and Singler.  More audio is on the way for premium subscribers.