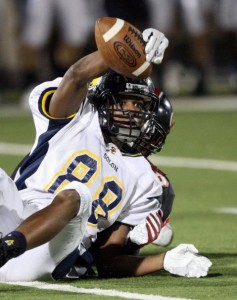 With Duke's prolific passing offense, it's no surprise that the Blue Devils have had success recruiting and developing talented wide receivers in Durham, most notably All-ACC performers Eron Riley, Donovan Varner, and Conner Vernon. The Blue Devils hope to continue that trend in the class of 2012, and have been scouting throughout the country in search of receiving talent. One prospect who has stood out so far is Tres Barksdale, a 6'2" 180 pound receiver from Solon, Ohio. Prior to breaking his foot during his junior season, Barksdale was regarded as one of the top receiving prospects in the state, and has been in contact with Midwest powerhouses such as Ohio State, Michigan and Notre Dame. Highlights of his abbreviated junior season can be viewed here. The talented receiver made the trip to Durham for Junior Day and came away impressed with the Duke program.
BDN: Can you start out by describing some of your strengths as a receiver?
I'm around 6'2", and my really big thing in a game is going up and getting the ball over people, using my size, get around people and go for the ball.
BDN: What are some of the things you've been working on this offseason?
Well, I actually broke my foot this year, so I was out for the last seven games of this season, but I've been really working on getting – like increasing my explosion to even up to better than it was when I broke my foot, because I feel that's one of the things that kind of went down when I broke my foot, my explosion.  So I've really been working on that, and my quickness, like getting off the ball and being quick with my routes, I've really tried to critique.
BDN: What are some of the goals you have for your senior season this fall?
Well, I'm starting off with being back and being fully healthy, and then from there I'm hoping I can be a big impact player, and my coach will look to me to be a leader, and I feel like I'm hopefully going to be an impact, like someone other teams will look out for, and put a lot of effort into covering me.  That's my big thing, to make people work to cover me, and make it be a big deal in games.
BDN: What are the most important factors you are considering as you look at colleges?
The most important factor would probably be a question of how comfortable I feel at the school, and then also like academics is a big thing too for me, so like how comfortable I feel at the school, and how I feel around my classmates at the school, and also how the academics are, and how I fit in with the football program.  I think the coaches, if I feel really comfortable with the coaches, I can be open with the coaches and talk to them.
BDN: Is there an academic field you are interesting in studying?
Something with medical, probably.  In the medical field.
BDN: What schools have you been in contact with the most so far? Who were some of the first schools to contact you?
In general, well by Duke, and then with Wisconsin, Illinois, Notre Dame, Boston College, Texas A&M, and then there's a couple like Ohio State, and then – Michigan, Northwestern.  And Penn State too.
BDN: What schools have you had a chance to visit so far?
I've visited Ohio State, Michigan, Michigan State, and Notre Dame.  And I have visited Duke. And I also visited Northwestern.
BDN: Have any of those schools stood out to you at this point in the process, either on your visits or your contact with the coaches?
I was actually really impressed with Duke. Duke really stood out to me, like the coaches were, seemed like really good guys, campus was really nice.  Academically, it's a great school, so that was a big deal to me.  Like I have – I liked how they were, in the future where they're looking to go, they're really working to get there, and they're just looking to the future and will do anything to get there.  And then also Ohio State I really liked, like I really like the football facility.  I liked how it was closer to home, so I could get there, so it's easy for my parents to get there, so they can see me play.  And also, I liked Notre Dame, the campus was unbelievable.  Like that's what I really felt, the campus was just so nice.  And then Michigan, I liked the atmosphere at the game, the atmosphere at the game was unreal.  Everything about the game was just like, "Oh my gosh, this is big time football, this is the place to be."
BDN: Do you have plans for any additional visits this spring or summer?
Yeah, in 2 weeks I'm visiting Wisconsin, over – and then after I'm not sure where else I might go up to visit.  And then over the summer I'm probably gonna take a trip down to Duke Camp, and try to get to the Duke Camp and UNC camp all in one trip, and then maybe NC State, like all in one trip down there.  And then Boston College, I'll probably go see my grandparents, go see them and try to go to that camp.  And then Ohio State, Penn State, and Wisconsin, and then Illinois, around all those.  Yeah, it's gonna be a busy summer.
BDN: At this point in the process, do you have an idea for when you want to make your college decision?
My thing is I don't know exactly, 'cause it's really gonna be when – I think I'll be able to feel where I'm comfortable, and if that's later in the process, then that's gonna be later.  But if it's sooner, if it is, I'll make the most of my opportunities and go from there.  Yeah, see how it plays out, but I'm not sure.
BDN: Is there anything else you think is important for college football fans to know about you?
As a person, it's really just my hard work, and I'm always willing to give every ounce of effort I can, no matter if I'm sore, tired, I don't feel like I can do it, I'm always going to put all the effort I have is doing something, and never give up.