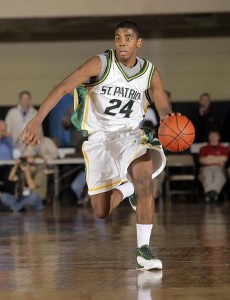 During the past year, Kyrie Irving has become one of the most coveted recruits in the country through his play at Saint Patrick's of Elizabeth, New Jersey. Irving cut down his list of  suitors from over thirty-five programs to a more workable ten, including the Duke Blue Devils. Over the weekend, the 6'2" guard played in his first major AAU tournament since winning the state title and did nothing but enhance his stock through his deft shooting, improved athleticism, and the opportunity to take the reins as a point guard in leading his New Jersey Roadrunners to a 3-1 mark, while averaging nearly 26 points per game. During the tournament, Blue Devil Nation caught up with Kyrie again to cover a variety of topics.
Blue Devil Nation: You made first team all-state and the Celtics won the state title. Was it about as smooth a transition as you could have hoped for?

Kyrie Irving: The transition to St. Patrick's?

BDN: Yes
KI: It was a learning experience, you know, as a player and as a person. Looking up to Dexter (Strickland) and Paris (Bennett) everyday. Going out there in practice and just working very hard.
BDN: Well, you went 19-1 with you out there. It couldn't have gone much better on the court.
KI: I definitely went through some ups and downs during this season, but it was a learning experience. I love it.
Blue Devil Nation: You cut your suitors down to ten programs. How did you come to the decision and what's your current timeline? To read the rest of this in depth interview, join Blue Devil Nation Premium -[private]
Kyrie Irving: I just sat there and thought about the coaching staffs and how I felt about them and whether or not I could see myself playing there…and if I felt I wanted to visit there and stuff like that.
BDN: You felt you needed to cut it down to something more manageable.

KI: I definitely needed to cut it down.

BDN: So you thought thirty-five was a little too much..

KI: (laughing) Yeah, I just needed to think about the coaching staffs and handle it from there.
Blue Devil Nation: What aspects of your game can you work on during the AAU season that you cannot work on at St. Patrick's? How does it differ? You seemed a lot more aggressive tonight than you have during the high school season, but they needed you to be tonight.
Kyrie Irving: Well, I mean the rumor is that I'm more of a combo guard, which people list me as, but my primary position is as  a one. I'm a point guard first.
BDN: I was trying to track it amongst other things, but you brought up the ball roughly seventy percent of the time you were on the court (this would increase significantly as the tournament went along).
KI: Yeah, exactly, I mean Sandy just lets me get ball and start the offense. He lets me work on my game…different aspects that  I want to keep working on…like refining my mid-range game.
Blue Devil Nation: Well, since you brought up shooting, how do you assess your shooting right now in all aspects? Long-range, pull-ups, floaters, driving the lane, and the one you just touched on, your mid-range game… You were hitting your threes consistently tonight.
Kyrie Irving: Well, I shot very well tonight. I'm also trying to work on finishing inside against the best near the basket. I think my range is pretty decent right now, but I mean just my in-between game right now.
BDN: You're trying to work on it now amidst game situations.
KI: Yeah, the fact is I work on it all the time, but, in the game, it's just different.
Blue Devil Nation: How did you decide on the Roadrunners and what's your relationship like with Sandy Pyonin?
Kyrie Irving: Well, like before I started getting recruited and before people started to know me…I was with Sandy since my freshman summer...playing with guys like Corey and Keon Lawrence

BDN: I saw you with Justin Crosgile.

KI: Yeah, that's like my right-hand man right there so I was just playing with him since the sixteen and under and then it just exploded basically.
BDN: Do you think it was just a matter of exposure combined with some improved play? Or do you feel you were always this good? You don't have to be humble this time if you feel you were always around this level (laughs).
KI: (laughs) Yeah, I was around this level basically.
Blue Devil Nation: Which camps do you plan on attending this year?

Kyrie Irving: I'm going to the NBA camp.  Then, I'm going to the Deron Williams Camp and the LeBron James camp…and there are a couple of other ones, but I'm not sure just yet.
BDN: What about tournaments?
KI: We're going to Bob Gibbons and to Vegas that I know of.
BDN: Has Coach Boyle talked to you about how he plans on utilizing you next season? Will you be playing more off the ball next year or on?
KI: I'm going to be doing both.  I'll be a scoring point guard.
Blue Devil Nation: Despite the exposure that playing at a national power like St. Patrick's, before you arrived, did you ever have any concerns over being overshadowed or overlooked by playing with other quality players, as opposed to staying at MKA, where you would continue to be the main guy and put up massive numbers?  Not necessarily intimidation, but apprehension perhaps?
Kyrie Irving: (pause) At first, I did. I did feel it at first. I looked up to Dexter Strickland before I got there. I was always like wow, but the transition went cool so I mean just playing against the best and
BDN: By the way, I didn't mean to offend you in any way by the question.
KI: Nah, nah, it's all right. I can honestly say I was like a fan of Dexter's and I admired everything about him. Everybody was always taking about 'Dexter this and Dexter that' and all of the camps that he was going to that never considered me. After I got to know everybody, everything was fine.
BDN: What was the highlight of the season for you? The title game? Your coming out party against St. Benedict's?
KI: Winning the state title definitely… That was the best, particularly as a junior
Blue Devil Nation: Winning the state title. Can you talk about that game?

Kyrie Irving: That game…that game I put on a show also. I had twenty-six points and fun out there. The seniors…it was their last game. To top it all off, it was my birthday.
You turned seventeen that day.
Yes.
BDN: In your view, what are some of the benefits of playing AAU basketball?
KI: Playing against the best and the travel. I love to travel.
Blue Devil Nation: Let me ask a few questions that the posters were wondering about. Are you leaning towards any school at this point, specifically Indiana?

Kyrie Irving: No, not at all.
BDN: Another poster was wondering what position you would play in college? Would a "scoring point" be a more apt description than a "combo guard" at this point?

KI: I would say that, yeah, definitely.
Blue Devil Nation: Can you talk about your relationship with Rod Strickland? People have written that he's a "cousin," a family friend, and even an "uncle."

Kyrie Irving: He's a close friend of my family.
BDN: Can you assess your play so far in the tournament.?

KI: It's been good. Our team is playing well and we're just getting our chemistry together.
Blue Devil Nation: I wrote down your ten schools. Can you just briefly go through each of your ten finalists? If you could just briefly go over why you chose the specific program, that'd be helpful.

Kyrie Irving: Oh, okay. Yeah, sure
BDN: Indiana?
KI: Coach Crean and Coach McLeod. I have a great relationship with both of them. Notre Dame is because I have a great relationship with Coach Brey and Coach Solomon, er, Thomas.

BDN: Solomon

KI: Solomon and Coach Brey wants me to visit out there.
BDN: Texas A&M?

KI: They were the first to offer me. It was in the summer of my ninth grade year.
Blue Devil Nation: Florida?
Kyrie Irving: I went down there for Nationals and it was just great and they came to every game. Seton Hall is because their a local school. You know close to home. And Duke. (pause) You know, I…I mean Duke to me is really big. I mean especially where I'm coming from, which was nowhere. They're great.
BDN: How about Georgia Tech?

KI: Coach Hewitt… he's been great. He relates…he relates to my dad a lot. They have a good relationship.
Blue Devil Nation: What about Pitt, the home school for this tournament?

Kyrie Irving: I'm really just getting to know them, but I mean Ashton (Gibbs) is one of my boys.

BDN: Do you view this as an unofficial visit to Pitt?

KI: No, no I can't.
BDN: Maryland?
KI: Maryland was because Coach Williams and Coach Eisen (Ehsen) came to see me during my sophomore summer, but it was brief.
BDN: And Marquette?

KI: I've watched them since Tom Crean was there and Coach Williams then. Coach Williams, right?

BDN: Yeah

KI: He became the coach and than I just related from there.
Blue Devil Nation: You talked in the past about making trips to Memphis and Indiana, do you have any unofficial trips planned for the spring or some that you're hoping to make but haven't yet scheduled?

Kyrie Irving: Oh, yeah. On the 28th and 29th, I'm going to Texas A&M on an unofficial and in the future I'm going to Indiana and Notre Dame.
BDN: Okay, and that's it for the schedule at this time.

KI: That's it.
BDN: Thank you.

KI: No problem. [/private]