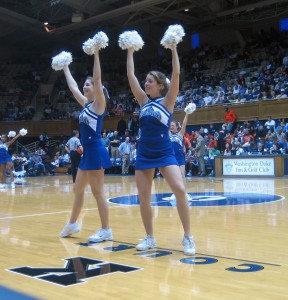 The Blue Devil Nation has some exciting changes on the way and we would also like to share with you some information on the site in general.  This includes member testimonials at the very bottom. none of which have been altered in any way.
Feature writers - BDN will be adding feature writers in the near future.  Jim Sumner starts it off with a take on the history of Duke football recruiting in the state of North Carolina, and Al Featherston is aboard as well.  These are two of the very best in their field and both are steeped in Duke history.  Their familiarity with the athletic programs at Duke should be a wonderful addition and there contributions will remain on the free portion of the site.
Front page changes - Our site designer, Susan Rego, is hard at work on a new front page for the site, which will have a slider with the four latest offerings and improved navigation.  We have added a video feature that is a work in progress and we will also add some daily links for the first time since our inception due to member responses in a recent poll.   We think you will like the changes and we'll refine them as we go.
Message Boards - We will not offer free message boards, for we have seen what most of them turn into over time.  However, we do support and visit the DBR forums and recommend them for conversation. What we do have is a great premium subscription members-only message board which features some really good conversation.  Our message board has grown significantly and the community is strong in ethics and keeping away from in-fighting and all of the things which are unattractive at most boards.  You will find that our members make up "Blue Devil Nation," and they are encouraged to participate in coverage around the country.  Whether you lurk or join in the conversation, it's no longer a secret that BDN's message board is the place to be for extended insider tips and talk with fellow fans.
Member participation - Andrew Slater has an interview coming up with Kyle Singler from the LeBron James Skills Academy, where he allowed our premium members to ask the questions.  We encourage member participation at BDN.
The BDN Team -  I have already mentioned Susan, who takes care of pretty much everything, but I want to take a little time to talk about others.
Bob Green remains the chief moderator and will continue to write articles for BDN.  Bob has been with me since we created the message board and he runs the Bob Green Football Picking contest, where you can claim a prize if you win the cup.
And then there is Andrew Slater.  Andrew was a long-time member before he joined the BDN Premium staff covering recruiting like few people can.  His interviews are as in-depth as they come and his analogies and contacts on the AAU scene are solid.  We also have a great group of moderators who rarely have to work due to the tameness of our forum.  Then there are the fans.  That's you I am talking about for, again, we are all a part of the Blue Devil Nation.
Integrity - I feel BDN has earned the respect of many in the field of sports reporting for we always strive to be professional and to surround ourselves with respected people.  This site will not take another school's team to task or bash an opposing player, for the emphasis is on the best Duke fan experience we can provide.  We do not deal in rumors, but in facts in our premium section and we will not reconstruct conversations to appease the fan base.  What we hear in interviews is what you hear.
Ads - BDN has stayed away from ads thus far, as we are not dependent on them for income.  However, we will start including some local and national ads provided they fit our clientele.  If you are interested in advertising on BDN, contact me.  There will be more opportunities coming up with new features as well.  What I can promise you is that we will not allow tacky ads to bounce off the page at you.
Our premium section - Between Andrew and myself, BDN covers almost every major AAU event in person.  We see and talk to the prospects first hand.  We have a solid network of legitimate sources and we generally are ahead of the curve with information.  BDN's message board community is a big part of the premium experience as well, for there are insiders, coaches from AAU, and a general mix of knowledgeable people discussing Duke athletics.  Just go to our premium section of offerings and look at the long list of articles waiting for you to read.   Go ahead and compare us to the competition, especially in the recruiting world, for that's what we want.  Our member retention rate is the best in the business for a reason.
It's a great time to join, for Andrew is already in Las Vegas and sending back reports.  Heck, we still have Brandon Knight and Andre Dawkins interviews left over from the Peach Jam. Just dive into our numerous premium offerings and catch up with all the latest happenings, behind the scenes photos, and so much more.   I will head out to Orlando for the final event of the summer, the AAU Nationals on Friday and will report from their throgh Thursday.  I feel certain that anyone who joins BDN Premium will be satisfied.  In fact, if you contact me within 24 hours of joining and are not satisfied, we will give you a full refund on the spot.  Please be aware that there is a 24 hour window for you may get caught up in the AAU updates. 
Member satisfaction - Bob Green took a survey of our members and the results say it all.  Here are some percentages and results -
How does a BDN Premium subscription rank against other premium sites?
-28.5% did not vote
-38.8% BDN much better than other premium sites
-32.7% BDN is better than other premium sites
One person* voted not as good as other sites.  Also, 76% of our members subscribe to another site, 92.9% read BDN's free articles, 78.8% want us to do more daily links and 83% visit BDN Premium multiple times per day.
Below are some testimonials from our members -
- Over the years I have tried several 'pay sites', some better than others, but none that ever caused me to renew my subsciption. Blue Devil Nation is without a doubt the best site I have seen for all things Duke. Breaking news, great recruiting updates and info-well before it becomes general knowledge.
- My testimonial is quite simple - I have *never* felt compelled to join any pay sites before BDN. Based off what Mark Watson offered within the context of the free DBR message board I felt compelled to try a one month trial basis. The quality of the information and the forum is fantastic - I'm now hooked and a loyal subscriber.
- I've been a member of a number of Duke fan sites and have paid to be an "insider" at many of them as well. Too often I would find out about "inside" information on free boards or worse yet, from rival premium members before getting the information from the service I was paying for. That has never happened with Blue Devil Nation the coverage of recruiting events has been outstanding. The membership has been worth every penny.
- I joined BDN at the same time as I joined 2 other Duke related "insider" sites, and lets just say i cancelled my subscriptions at the other 2 after a weeks. This site is above and beyond any other site I've ever been a part of and continues to impress me.
- I've only been a member of BDN for a few weeks now and already it's been much worth the money. I have been a member of other Duke insider sites but nothing comes close to what BDN has already provided me in this short time span. The coverage is great and the articles and insider info is unbeatable.
- Where else can you find out about important things nearly a month before the other "premium" sites do? Not only do you get information early, it is also very accurate! This site has the best coverage of AAU events, HANDS DOWN. I will be renewing my yearly subscription every year from here on out.
- I am a Duke '54 alum and have been a BDN subscriber since inception.BDN is the best site for insightful, no-nonesense writing on Duke basketball, and some folks forget the valuable contribution its members make to its staying on top of the basketball reporting trail..........
- Prior to Blue Devil Nation, I always concluded that premium sites were probably overated and to a degree unnecessary. After trying BDN...boy was I missing out on some great info! My biggest revelation...not all premium sites are created equal. Blue Devil Nation is top dog hands down when it comes to sources close to the Duke program. BDN always receives timely information and their hard work and ethics are top notch. If you love Duke Basketball and recruiting...this is the best place to be on the net.
- BDN is great! You get solid information early and the message board is full of true Blue Devil fans. Not the sky is falling, Rome is burning types.
- I love this site, and applaud Mark for his dedication and high standards. I go way back to the "Prodigy" origins of DBR, and really regret the change in tone that has evolved there over the years. BDN is friendly, informative, cutting-edge, and ethical - and of great importance to me, not snooty and condescending. Let's keep it that way!
- I have been a member of BDN close to its inception. There has not been one moment that I regret becoming a member. This site is worth every penny and more. The info you recieve is not info that is handed down through national media channels. Mark and Andrew get out there and work it and it shows. I am also a member of BDN Premium because the core of Duke fans here are just that, fans. We are able to go back and forth in a civilized manner and not made to feel inferior. That is refreshing mostly because I have not found another site that offers this. If you are on the fence about joining, I suggest signing up for a trial.  I guarantee you will be a member for a long time.
- Hands down the best insider site for Duke basketball.  It is money well spent and I wish I had joined earlier.
- It's quite simple, if you want up-to-date and accurate information as to what's going on in the world of Duke sports. If you want to have good, lively discussions about Duke basketball/football/recruiting; then this is most definitely the site for you. You can try the rest, but BDN is the best. The other sites just can't compare.
-  First of all there is Mark "watzone" Watson, a human encyclopedia of Duke Basketball and football.  The addition of Andrew Slater has made an already great site even better.  Their AAU coverage is incredible.  There's a bgood reason that TDD doesn't link BDN, for they know there is a lot of bang for the buck and that they simply cannot compare.  BDN is passionate about their coverage.

- Friendly, ethical, dependable information flows from BDN daily.  The message board is unique in that opposing fans cannot disrupt the conversation.  I am a member of two other sites for I am a junkie, but BDN is on top of it.  That's why I choose to chime on the message board here instead of wading through the garbage posts at the other subscription sites.