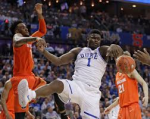 The Duke Shadow Helps UNC -- Duke will play North Carolina for the third time since February 20th in the ACC Tournament semifinals just after 9:20 this evening.  In each of the previous games, the Blue Devils have been the media darling.  In fact, more people have been talking about when Zion Williamson will play than the two North Carolina wins and that kind of thing gets to you.  This is especially true for a  North Carolina team that is red-hot.  No matter what they do, people have talked about Duke and that same thing will allow for a collective chip on their team's shoulder tonight.  Trust me, the Tar Heels want their shot at Zion too if for no other reason than to remove that asterisk people have mentioned.  Most teams would not trade places with Duke and the hype surrounding them, but it can at times work against you and I would make a case for that happening in this series to date.
I cannot help but notice or recall that -- Zion Williamson went out shortly into the McDonald's All American game when Tar Heel to be, Nassir Little aggressively jumped out to defend him resulting in Williamson going down which led to Williamson injury.  That was uncharacteristic, if not over the top effort defensively for an all-star game atmosphere,  In the game at Cameron, Luke Maye jumped out to defend him causing Williamson to start to make a move and we all know what happened with his shoe a second into the aforementioned move.  The point is that the Tar Heels will make Williamson prove himself and could use the strategy of fouling him to limit his game.  Williamson struggled from the free throw stripe last evening while dominating every other aspect of the game.
Duke does miss Bolden --Marquese  Bolden clogged up the paint for Duke and with him being out, Duke is smaller even with Williamson back.  The Tar Heel love to go inside and their backdoor cuts are relentless, so Duke will have to get a big game from Javin DeLaurier and Jack White on the boards.
Limit mistakes -  Teams can find themselves down in a hurry to North Carolina just as they might Virginia.   You have to value the ball against the Tar Heels in that they are so efficient on the offensive end.  No team is playing together better than North Carolina at this time.  Duke turned the ball over in a way last night that would bury them against better teams.  It is critical that they cut down on mistakes against one of the ACC's best teams.
Don't get caught standing around --  If Duke stands around and watches RJ Barrett and Zion Williams it may not be enough.  The Blue Devils must develop other scoring options and to win the tournament each member of the team has to show up.
Will someone in please ask RJ Barrett a question? -- Okay, yes, Zion Williamson had the game everyone is talking about, even those who do not follow hoops closely.  But Barrett seemed lonely on the podium last evening with one question coming his way.  Barrett is incredibly consistent and is the only college basketball player in all the land that has scored at least 13 points in every game he's played.
Yes, it looks like this game is for a #1 seed. -- While Duke is no lower than a #2 seed no matter what happens, they have to win tonight to regain a #1 seed.
Tre Jones must keep shooting. --  I get that he struggles at times with his three-point shot, but he must stay aggressive and take those open looks.  Good things will happen in time if Jones continues to score and may he get to the line more as well where he was perfect last night.  The bottom line is that Jones took a three is a much better option than some others doing so on this team and the shot will fall if he stays with it.
What needs to happen.  -- I will not mention any names here but some Duke players on the roster have not shown up against North Carolina and in this game, the whole roster needs to contribute.
What I see happening tonight. --  It will be a heck of a game and one where things could get chippy.  Williamson will have to earn his points but Duke will benefit from his presence which will loosen up others to score the ball.   I feel that Duke could actually lose this game and still win it all, but I think they will find a way to come out on the winning end against North Carolina.