Here is the latest recruiting update which covers pretty much every prospect on the radar.  Rest assured that the information our premium members receive is accurate and ahead of the curve.
Let's start this update by saying that Duke had a chance to look at many prospects during the eleven day lay off.  They, of course, visited Harrison Barnes, [private] well, Wojo did due to K's automobile accident.  Barnes remains a top priority.
Chris Collins watched Ryan Kelly early in the month. Nate James took in a Ray McCallum practice.  You'll read about two 2010 kids that have caught the staffs eyes in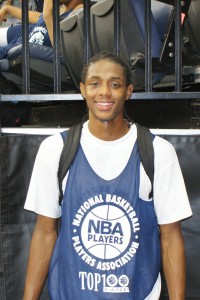 the aforementioned Ray McCallum and Kyrie Irving. The staff was able to see both of these youngsters during the break.  Chris Collins was able to attend Irvings practice and you will learn why he didn't take in a game as you read Irvings capsule.
The staff was unable to see John Wall but they stay in touch with him.  They will check him out at the Glaxo Smith Kline Tournament along with Mason and Ryan.  In breaking news it has now been learned that Nate James will visit the City of Palm Classic where he will go head to head with Kenny Boynton.  Wall has not had many local games of late and of course, Duke has not had many home games for kids to come to.
Coach James will stay in Florida and check out Brandon Knight this coming Monday and Tuesday.
They are planning on getting some kids to home games, but the lists are a work in progress and will not be finalized until a week or so before each game.
Holiday tournaments start in force this week. Brandon Knight, who is coming off a 40 point effort will play in the 26 team Krurel Classic in Florida.  Just north will be the big event in Fort Meyers with a bevy talented teams and players.  Among those of interest for Duke are John Wall, Tyler Thornton and Kyrie Irving's team minus him.
Then there is the Chic-Fil-A Invitational where both Duke 2010 commitments Mason Plumlee and Ryan Kelly go head to head as Ravenscroft takes on Christ School in their only match up in the regular season on Saturday evening.  Coach K and Chris Collins will visit this event on Monday and take in Kelly and Plumlee.  This tournament also features Daniel Orton and no Duke is not recruiting him.
I'm currently compiling a new chart of prospects and commitments much like we had at the old site.  Here is skinny on two kids which are being evaluated.  One of the names I will cover later is Jason Morris.
Since none of the corporate sites have listed these kids, especially one,  I would appreciate it if the names stayed here.  The second you drop a hint or teaser out there it magically appears there.  In fact, I have held the names back despite knowing about them for awhile now to see if they would appear elsewhere first.
Ray McCallum - Class of 2010 ( 6-1, 195) Detroit Country Day (Strong evaluation, no offer yet - Duke visited McCallum recently and they like what they saw.  The Blue Devils have been evaluating the 2010 prospect since last summer.  He played with Mason Plumlee for Indian Elite in AAU ball.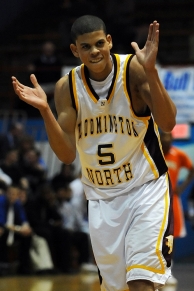 His Dad was an assistant coach with Indiana and is now the head man at Detroit.  He is refered to as "Little Ray". He attended high school in Indiana but left for Country Day when his Father got the Detroit job.  Country Day, of course, produced Shane Battier.  Detroit Country Day features seven high to mid major prospects and is one of the top teams in the nation.  He tallied ten points in their only game this season but the buzz is that he is the missing piece to the puzzle at the PG spot.
In a recent brief conversation with the budding star, he said he was in no hurry and will go through the recruiting process.  He also stated that the calls and letters had picked up significantly.
Among the schools hot on him of late are Duke, LSU, Syracuse, Oklahoma and Kansas.  All of them recently viewed him in an open gym.  Of those schools, Kansas has been very aggressive and according to McCallum the most active in the process of late.  In fact he visited the Kansas midnight madness or late night at the Phog as he called it.
McCallum holds offers from the likes of Detroit, Kansas, Michigan, Notre Dame, Oklahoma, Texas and UCLA.  His current ranking is sure to soar and his early play in his high school season has been solid.
He hopes to lead his team to the state title and wants to see how things develop before narrowing his choices down after the AAU season.  Until that time, he has become a hot commodity and is a name to keep an eye on.
Kyrie Irving (6-1, 168) PG St.Patrick HS, New Jersey - (Evaluation started, strong interest no offer) - Irving caught the eye of evaluators and Duke is paying attention.  They have started the process and Coach K will take a look at the young man come Spring.  Irving spent his first two seasons at Motnclair Kimberly Academy.  He helped lead that team to the New Jersey Prep "B" title.
The talented prospect put up some serious numbers which included averaging 26 PPG, 10 RPG and 4 APG.  He had a career high 48 points and is a serious threat on the offensive end of the court.  He will play for St. Patrick, New Jersey this season.
Yes, that is the same traditionally strong St. Patrick team which features Dominic Cheek, UNC bound Dexter Strickland and Michael Gilchrist.  The "Roadrunners," as they are called may be the best team in the country.
Despite the talent jam, Irving is expected to continue to make a name for himself.  This however will not happen until the tenth game of the season due to his transfer.
Duke will gauge his interest over the next couple of months where they will join a crowded field of suitors that include rival UNC, Florida, Memphis, Villanova, Rutgers and Indiana where he recently visited.  Expect that list to grow as coaches see him play with a talented cast.
One interesting note is that his Coach Boyle compares him favorably to Jason Williams for his ability to score and distribute.  Like Williams, he can play the one or two in college.  Also like Williams, he doesn't shy away from taking the big shot when  a game is on the line.
We will likely update or add to this update in the next 24 hours.  I will also be going down to Columbia with a premium member where I will be able to tell you about the Kelly-Plumlee battle firsthand. [/private]