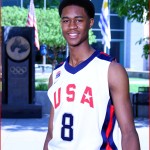 Duke is generally slow to get involved with some younger kids, but the talented Vincent King garnered their attention this pas weekend at the Nike EYBL Peach Jam in North Augusta, South Carolina.  King has not been back long from an overseas trip where he helped Team USA roll through the competition.   The LeBron James Shooting Stars U-16 team was one of the best this season and King was part of that.  His play in North Augusta was seen by many coaches who were also scouting some of his talented teammates and the calls are sure to roll in after the evaluation period for this talented young man.  Vincent King is a guy to keep an eye on moving forward.
It's the first time I have been able to see you play this weekend and I'm impressed. Where did you learn your basketball skills?
I learned from my Dad, he played overseas. He's Vincent King and I'm junior. (goes by V.K.)
How would you describe your game in your own words?
I'm very patient, I don't like to force a lot of stuff but to remain poised and get my teammates involved and play good defense.
You're a young guy but I am sure you are already hearing from a lot of schools.
My [private] Dad has been hearing from a lot of schools, he feels like I'm not really old enough to handle it just yet, so I just keep it that way for now. So, he handles all that stuff.
Did you have a dream school growing up?
A dream school? (pause) No, not really. I watched a lot of schools and it will be three years for now. A lot of things can happen between now and then.
Will you continue your AAU career with the LeBron James Shooting Stars?
For now, yes.  I'm playing with a lot of the lot big time players and there are a lot of schools here.
(the reason I asked the question above was that the team/roster was more or less thrown together this season and many of the kids have never played together)
Do you try to pattern your game after any particular player?
I try to pattern my game after Lebron, Kobe and players like that.
You were just overseas representing your country with Team USA. Tell me a little bit about that experience.
It was a great experience, especially with the way we played. In my first game we scored 99 points, so it was fun. The experience, doing whatever was fun.  I had time to grow and learn.
I'm kind of from the North Carolina region. What do you think of schools like Duke and North Carolina?
Those are great schools. I like those schools a lot and also the education is great there too. You have to work for everything you get there with those schools.
Being from Ohio are you hearing from the local schools like Ohio State?
Yeah, they offered me and I have a great relationship with the head coach and assistants.
Which schools have offered to date?
Ohio State, UNCC, Wisconsin, N.C. State, Iowa State and some others as well. It's humbling to see a lot of schools come in early.
What do you do in your down time?
Try to get out there and play golf a little bit. My Dad runs a gold company, so I try to get out there some.
I spoke briefly with Mr, King after the interview who is very hands on and sits on the bench with the team.  He's a personable guy and tall meaning his son could grow an inch or two yet.  He runs a non-profit golf organization which helps kids in Ohio and has roots and family in North Carolina somewhere in the Western part of the state.  He grew up rooting for North Carolina and was excited to see Coach Williams watching their game.  When asked if this was bad for Duke, he said no, but it was clear he had some heart-strings attached to UNC.  Duke will recruit Jackson in time and Coach K did take in his game while watching dual games and came away impressed.  Luke Kennard, his teammate had good things to say about the youngster as well. Talk about this interview on the message board for members. [/private]