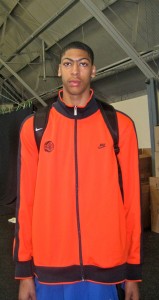 Anthony Davis is a Chicago native whose uncle taught him the game of basketball in grammar school.  The budding prospect has been getting better ever since.  Davis is coveted for his versatility and some of the nation's top schools are after him.  In an one on one interview during the NBAPA Top 100 Camp, Davis sat down to chat with BDN.
You have two games under your belt and have been participating in drills.  What have you learned thus far in the camp?
It's been a great experience so far with some of the players past and present and they're teaching me a lot of things post wise and shooting wise.  Since I was a guard last year being 6-2 or 6-3.  I always had my guard skills where I can dribble and shoot.  So they're trying to teach me more ball handling as a big because if you're a big that can shoot and dribble, you can score.  A lot of bigs here don't have that same skill set..
Describe your game for those who have not seen you play in your own words?
Tayshaun Prince.  A lot of people compare me to Kevin Durant because I'm a big guy long and lanky who can really shoot the ball and get up and down the floor.  The person I work out with, we do a lot of Kevin Durrant skills work, like stepping through the man on the post to create space to where your shots are not contested.
Are you [private] still growing?  You had quite the growth spurt this past year.
A lot of people say I may end up 7-0, but I don't know if that'll be the case.
And your list of schools are?
Kentucky, Ohio State, Duke, North Carolina, Kansas and Kansas State.  All have offered except Duke and North Carolina, they want to see me in July at the Peach Jam and that's when they'll offer.
Did you have a dream school growing up?
No, not really.  I watched the Big Ten and Big East growing up and I followed Illinois while growing up.  I know a couple of the guys who went there and me and my cousins pulled for them back in the day, but now I watch a lot of schools play to see how they play and how they might use me.
Will distance play a role in your decision?
Actually it would.  I don't want to be more than 6 or 7 hours from home.
So that might eliminate schools like Duke or North Carolina?
Not really.  When I take a visit down there if I really like it and could see myself being there it wouldn't effect my decision at all.  There are some schools, you know, that I'm wishy-washy about, but not so much them.
What are you looking for in a school?
First they need to have my major, sports management because you have to have something to fall back on because basketball doesn't last forever.  Also, the population, I want to go to a big school.
What about a coach?  What are you looking for from him?
Good background for building a squad to be a national championship caliber team.
Obviously you have your eyes on the next level of college hoops and then the NBA.  What position do you feel you might play?
I would say a three or four, maybe a three.   It doesn't matter really, I'll just be happy to be there for the opportunity.
What is Anthony Davis like off the hardwood?
I'm a fun guy to be around, way cool and all and most people think I'm fun to be around but I really just play a lot of basketball with other players.
Do you consider yourself a hard worker?
Yes, I work on my game almost everyday.  One day I go into the weight room and the next day put up some shots.  I'll try and hit the weight room a lot this summer.
I'm from ACC country.  You list Duke and UNC.  Your thoughts on the two schools?
North Carolina has a great program.  They produce a lot of NBA players and Duke, they do the same thing.  They both like to get up and down and they both fit the way I play.  They like to go inside out and Duke allows freedom and they do too.  They're both really good.
Do you look at or are you concerned with other players your list of schools are recruiting?
Not really.  I just want to see whats best for me.  They're not recruiting just me but other people to build a championship caliber team.  I want to win a championship before I leave college.
College or Pro basketball.  Which do you watch most?
Pro, I like the NBA.  I was pulling for the Celtics because I don't pull for Kobe Brynat, but it's good he got another championship, so ...  they had a lot of character coming back and Kobe resalized he needed his team to win, he couldn't do it on his own and he made adjustments.
Five second left down by one.  Are you the kind of player that wants the ball in his hands?
I am, but if I'm going to the hoop with two seconds left and I see an open man with a higher percentage shot I'm going to get it to him.  It's all about trust.
When will you get serious about deciding where you will play your college ball?
At the end of July toward the end of Peach Jam.  I expect to make a decision shortly after that before my high school season.
Where does Anthony Davis go from here?
I go to the Kevin Durrant Camp and the LeBron camp, a Nike Camp and then the Peach Jam.
Thanks for your time and good luck with the recruiting process.
Ahem, thank you. [/private]