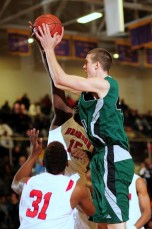 There has been a long tradition of future Duke players playing in the Glaxo Smith Kline Holiday Invitational Tournament over the years.  Some of the more memorable performances were turned in by Will Avery and Chris Duhon as well current Chicago Bulls star, Luol Deng.  This season there is but one future Blue Devil participating, that being Marshall Plumlee of Christ School Arden.
Of course, there would have been two Blue Devils had former verbal Tyler Adams, a 6-10 center form Brandon, Mississippi not backed out.  Adams is now headed to Georgetown but his team was originally invited because of his original Duke ties.  Interestingly, Adams and Plumlee's teams squared off in the opener.
Adams started the game with a block of Plumlee's first shot and he went on to score 17 points in the first half, ending the game with 21 points, 11 rebounds.   Plumlee went scoreless in the first half, but settled down in the second and he had better stats than Adams after the break.  Plumlee ended the game with 9 points and 8 rebounds, 1 assist and 1 blocked shot.
But this wasn't a match up solely between the two bigs and Christ School was the much deeper team and they played their entire 12 man roster.  So while some may point to head to head stats, the important stat was that Christ School had little trouble with Brnadon defeating them by a 70-46 score.
By playing a deep rotation, this meant Plumlee didn't get the same minutes as Adams.  Trey Brown added 12 points and the next top scorer had a mere 4 points for Brandon.  Meanwhile, Christ School got 20 points from Damarcus Harrison and 10 more from T.D. Dixon.
Towards the end of the contest, Adams was visibly tired but he is still a load in the paint and he has developed a nice little outside shot since the AAU circuit this summer.  Plumlee showed a baby hook, the ability to follow missed shots with authoritative dunks and a family trait in good, really good, passing skills.
One must also remember that a common practice in today's high school basketball world is to hold a id back a year for maturity.  That was the case with Marshall's brothers, Mason and Miles.  So, in short, Marshall has not had that extra year as had they and if he did, it would be an advantage.
The youngest of the Plum 3's is still developing and is a work in progress, but those close to the program are happy where he is and they can see his improvement.  Again, Christ School doesn't go inside to him often, so he battles for the scraps more often than not.
"I got Marshall to settle down after half time and he recognized the double teams coming at him allowing him to get the ball to open teammates.  His jump shot from the free throw line helped open the game up a bit," said Christ School Coach David Gaines.
Christ School plays again this evening at 7:20 which conflicts with the Duke-UNC-Greensboro game but they will also play on Thursday, so local Triangle are fans have two chances to see him play.  We'll touch base with Marshall in the coming days for he was not available to the media last evening.  Marshall most recently won the dunk contest at City of Palms.