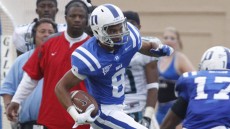 We hope that all Duke fans continue their prayers and well wishes for injured Duke WR Blair Holliday.  The Duke Sports Information Office just released this statement from the family:  "Our family would like to extend its sincere gratitude to everyone who has provided thoughts and prayers on Blair's behalf over the last week. We have been overcome with the extended love and support.
"We cannot express our heartfelt appreciation enough for Duke University and the Duke Football family during this time of uncertainty. Coach David Cutcliffe, coach Matt Lubick, coach Kurt Roper, Stan Wilcox, Hap Zarzour and so many others have been with us every step of the way, often times going above and beyond the call of duty to ensure our comfort and well-being. We are so proud to be a part of this team that also includes Blair's teammates and their parents, who have been so generous with their care and support.
"We would like to thank our extended family who have loved, mentored, and supported Blair both through the years and especially now when he needs them the most: The Buckley School, Oaks Christian School and AIM High Basketball. We also wish to thank Blair's personal physician -- Dr. Janesri DeSilva -- who has provided valuable guidance and tremendous comfort to our family.
"The doctors, nurses and support staff here at UNC Hospitals have been nothing short of wonderful. We are so thankful for their commitment, dedication and professionalism.
"We firmly believe in the power of prayer, and are confident that everyone's efforts have made a positive impact on Blair. As we continue focusing our energy towards Blair and our family, we also would like to thank everyone for respecting our privacy as it pertains to his condition."