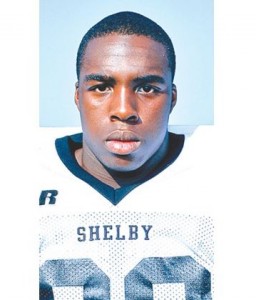 Is it Friday already? Time flies when you're knee deep in recruiting season. As we did last week, we'll share Football Friday with everyone this week. If you like reading what we have to say, please consider joining BDN Premium. We've quickly become the best resource for all things Duke athletics around, and we'd love to have you join our community.
College football preview season
We mentioned last week that college football previews are in full swing as magazines hit newsstands and websites begin publishing their own predictions. While Duke is flying under the radar for most prognosticators in 2011, several Blue Devil players have garnered pre-season accolades. Will Snyderwine and Conner Vernon were named as preseason 1st Team All-ACC, while Matt Daniels, Cooper Helfet, Kyle Hill, Sean Renfree, and Donovan Varner were tabbed on the 3rd Team by Athlon Sports. I would caution those who are sleeping on Renfree and Varner in 2011; both have taken huge steps forward this offseason and are poised to lead the Blue Devils to a bowl this fall.
Chris Tavarez featured
Duke's freshman safety has already made a name for himself in the acting world, and will star in a new NBC movie, "Field of Vision." The Blue Devils are looking forward to Tavarez's arrival on campus later this month.
Busy week
It's been rapid fire at BDN this week, kicking off with the Blue Devils' 6th verbal commitment in the class of 2012. Carlos Wray joins Allen Jackson as future Duke defensive linemen under new Coach Rick Petri. Wray and Jackson are both athletic prospects who will be fun to watch in Wallace Wade Stadium in the years to come.
With camp season in full swing, BDN checked in with several new Blue Devil prospects to learn more about where they are in their recruiting process, and learned that Duke has made a significant impression on many of them. Some of the new interviews we featured this week included: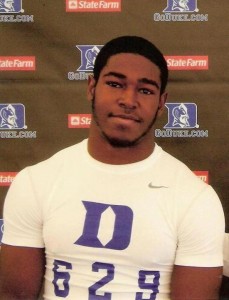 We've also recently checked back in with two of Duke's top targets on the defensive side of the ball:
If you've followed Duke football recruiting in recent years, you know we are just getting started here in early June. Buckle up and enjoy the ride!
Recruiting rewind
Most Duke fans are conditioned to expect recruiting success due to Coach K's historic run in Durham. In football recruiting, you win some and you lose some. At BDN, we believe it's more important to focus on the recruiting victories and keep things in perspective. Here's a quick recap of some of Duke's biggest recruiting coups in the last two classes alone.
Class of 2010
LB Kelby Brown
Duke fans didn't know how good of a player they were getting when Brown committed to the Blue Devils in July 2009. The coaching staff was able to secure Kelby's commitment over nine other scholarship offers from programs like Arkansas, Boston College, Louisville, Northwestern, UCLA, and Wisconsin. After knee surgery cut his freshman year short in 2010, Duke fans are expecting Brown to lead the Blue Devil defense in 2011 and beyond.
QB Brandon Connette
With Sean Renfree entrenched as the heir to Thad Lewis, it was easy to overlook the commitment from Connette, which the Blue Devils received early in the recruiting season, in May 2009. The Duke staff was able to beat out in-state power Stanford for Connette, who came in and led the Blue Devils with 8 rushing touchdowns as a freshman, a new school record.
RB Juwan Thompson
The Duke coaching staff went down to Georgia in the spring of 2009 and stole a pretty good running back prospect from the Peach State. Thompson committed to Duke in June 2009 over offers from Minnesota, Ole Miss, Stanford, UVA, and Wake Forest. After finishing in the ACC's top 10 in kickoff returns as a freshman, the Blue Devils expect Thompson to see an increased workload in 2011.
RB Josh Snead
After landing 4-star prospect Desmond Scott in 2009, the Duke staff continued their impressive in-state recruiting, adding the speedy Snead to the class of 2010 in December 2009. Snead chose the Blue Devils over Georgia Tech, Louisville, NC State, and Vanderbilt. Along with Scott and Thompson, Snead is expected to be a key playmaker in the 2011 Blue Devil backfield.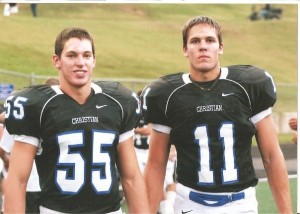 Class of 2011
OL Cody Robinson
The Duke coaching staff landed four impressive prospects from the state of Tennessee in the class of 2011, led by the 300-pound Robinson. Cody chose the Blue Devils over 8 other scholarship offers and is expected to anchor the Duke offensive line for years to come.
OL Marcus Aprahamian
Coach Luke and the Blue Devils went into the Midwest and secured a commitment from the top offensive line prospect in the state of Wisconsin in May 2010. Aprahamian, who called Duke his "dream school," is expected to join fellow 300-pounder Robinson and anchor the Blue Devil offensive line.
LB David Helton
Another good-looking Tennessee prospect, Helton chose Duke over 7 other scholarship offers, including ACC rival Georgia Tech. Helton is a player many think could contribute as a true freshman in 2011.
CB Jared Boyd, CB Tim Burton, S Chris Tavarez
Duke fans are going to love watching this trio of defensive backs develop in Wallace Wade Stadium. The three bring a distinct swagger to Durham, and they all know how to make plays. Boyd, who hails from Georgia powerhouse Stephenson High School, chose Duke over 14 other scholarship offers, including programs like Georgia Tech, Ole Miss, Stanford, and Vanderbilt. Burton brings the reputation of a big-time speedster and trash-talker from the talent-rich state of Florida, where he chose Duke over 7 other offers, including Big Ten power Wisconsin. Tavarez may be best known for his career as an actor so far, but he plans to make a name for himself on the gridiron at Duke, which he chose over 6 other offers, which included Maryland and Vanderbilt.
DE/LB Kyler Brown, ATH Jamison Crowder
Do you remember where you were on February 9, 2011? What about March 13, 2011? Of course, you were watching the Blue Devils beat the Tar Heels on the hardwood. What a great feeling for a Duke fan! So why don't you remember July 20, 2010? Or February 1, 2011? Duke beat the Tar Heels on those days as well, landing commitments from Jamison Crowder and Kyler Brown. With Crowder's athleticism and Brown's family lineage, Blue Devil fans should know to expect both to find a way to make an impact this fall.
You could certainly add more to this list – TE David Reeves, who signed with Duke after a late push by SEC power Auburn; WR Blair Holliday, who chose Duke over hometown UCLA; big DL Sam Marshall, who chose Duke over ACC rivals NC State and Virginia; Will Monday, the top ranked punter in the class; and several others. For a program whose last bowl game was over 15 years ago, the Blue Devil coaching staff is doing an impressive job on the recruiting trail. If recruiting success is any indicator, Duke fans should expect to see results on the field sooner rather than later.
Keep up with all things Duke athletics here at BDN. As always, thanks for reading. Until next week, WE ARE DUKE.