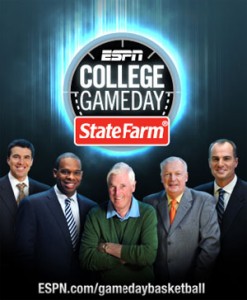 ESPN College GameDay live from Cameron Indoor Stadium
Saturday, March 6
ESPN's GameDay crew will be Rece Davis, Jay Bilas, Digger Phelps, Hubert Davis and Bob Knight
Doors open at 9:30 a.m.
Sportcenter will be doing live cut-ins from 10-11am
GameDay live from inside Cameron Indoor Stadium will run from 11 am to 12 pm
GameDay will also have a one-hour show from 8-9 pm
GameDay events are free of charge
Parking is free
Their will also be special guests and former players along with Duke Basketball prizes and giveaways will add to the show.
The public entrance into the event will be from the South Hall of Honor, while undergraduate and graduate students will enter from the North Lobby (Krzyzewskiville).
General public parking will be available beginning at 8:30 a.m. in all lots around campus with the exception of the Public Policy Lot.  All cars must be removed by 2:00 p.m. from the respective lots or they will be towed.