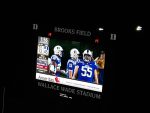 The Duke Blue Devils moved to 1-1 on the season with a 45-13 win over North Carolina A&T in Wallace Wade Stadium.
After a sluggish penalty plagued start to the game which saw the North Carolina A&T Aggies take a 10-7 lead, Duke exploded for 21 unanswered points to close the half.
Quentin Harris connected on 38-yard pass to true freshmen Jalon Calhoun to open the scoring for Duke.  Harris then threw a 22-yard touchdown to Manteo Durant and capped off an explosive 2nd quarter with a 39-yard score to freshman Eli Pancol.
All three of the aforementioned scoring receptions were the first career touchdowns for Calhoun Durant, and Pancol.  Harris also had a career-high in passing yards at the end of the first half.
A.J. Reed connected on a career-long 50 yard field goal to make it a 31-10 score on the Blue Devils second drive of the 3rd quarter.  North Carolina A&T would answer with a field goal of their own to make it 31-13.
Quentin Harris would connect on a 24-yard touchdown pass to Jalon Calhoun for their second hook up of the game to make it 38-13.
Duke would tack on another score on a Manteo Durant one-yard run to make it 45-13.
Quentin Harris finished the game with a career-high 83 rushing yards which tied his record against Baylor a season ago.  Harris went 30-42 for 345 yards and 4 touchdowns, all career-high marks. Harris also had a rushing touchdown.
The game was not always pretty for Duke.  They were plagued with penalties having nine flags for 97 yards.  Duke also lost one fumble and back up quarterback Chris Katrenick threw an interception in the red zone.
Duke racked up 545 yards of offense to 249 yards for the visiting Aggies.
Duke travels to Middle Tennessee State next week.