[private]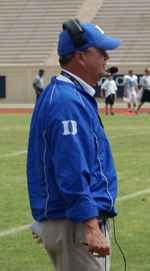 On yesterday's scrimmage - We did a little game work in yesterday.  We had to put that together and make it all work.  We followed up today with some walk thru's and corrections and an on the field scouting report continuing with James Madison.
We scrimmaged yesterday and we didn't tackle to the ground.  We couldn't afford to lose anymore running backs.  We got exactly what we wanted out of it ... great looks defensively at what the James Madison offense is suppose to look like.  Our number two units ran the James Madison offense.  We saw some things in there that give us problems, we saw some things in there we really liked. (Coach asked his team to stay late last evening and study tape).
Offensively, we worked against JMU schemes.  We threw and caught the ball well.  Tony Jackson continues to please me with his work.  He 's still got a long way top go, but in the absence of Boyette and Harris he's steadily improved.
On the kicking game -Our kicking units!  We did everything like a football game.  Nick Maggio inless something happens will be our starting placekicker.  Typically extra points of anything medium to close field goal range is his.  Anything of great distance we would certainly go back in there with Joe.  Surgan will be our kickoff man and Kevin Jones has now had a couple of good weeks punting the ball.  For the first time I'm telling you that I am not going to say please, but that I'm encouraged by our specialist.  Chris Shannon looks like he is going to have the snapping duties.  A lot of positives, the best kicking work we've had to date (scrimmage).
Yesterday, Joe made one from 53 yards.  He's a guy that has unusual ability, so we got a guy we treat as a long range field goal kicker.  Maggio has been 85% in practice and perfect on extra points.  That's our focus making the extra point.  There is no more important point in football than the extra point.  I want it to feel like clockwork ... then we moved down and started doing more field goal work, but I told Coach Midddleton and Roper that I wanted to master the extra point and feel confident.
On Tony Jackson-  He's a guy who has made things happen when we had to have it happen.  Tony just moved over there in the spring, really the end of spring.  He's come on.  He's starting to become a complete back.  Tony's got great speed.  He's starting to understand his schemes and reads and he's cramming the ball in the right places at times.  Is it perfect?  No.  And he and Jay Hollingsworth got all the snaps with the number one unit yesterday.   Hollingsworth is a pretty good runner.  Until I see further where Cliff gets too, that's where we are going into this ball game.
On the defensive front -  I'm a little concerned with our defensive front after the front four with Oglesby, Akinnbiyi, Oghobasse and Respress.  At tackle we are not as settled as I would like.  We still have some shuffling to do to see who ends up game ready.  Charlie Hatcher and Egboh have done some good work.  Charlie is playing a lot with number one snaps right now ... just a depth issue everywhere.  We have kind of got our number one units pretty intact, but we can't expect our starters to stay in the game the whole time.  This time of year it's not wise business to do that.
On James Madison- The first thing they do is they play like a really well coached football team.  They play very hard and make very few mistakes.  A talented quarterback, they've got speed  on defense and are an unusually good tackling team which is the sign of a well coached team.  Their quarterback is a dual threat and very difficult to contain.  I see why they're ranked number two in the country in 1-AA.  They essentially had Appalachian State (playoffs) beat and then fumbled late setting up the field goal and lost the game 28-27.  We know we have our hands full.
We can't get beyond trying to get Duke to play well.  We haven't played well around here in a long time.  These kids don't understand the start to finish mode.  So, our focus is more on ourselves than any opponent and that is not a slight to James Madison.  That would pertain to anybody we play.
On injuries - We have people busting their tales in rehab.  When our people are as good as they are at rehab, we will take it day to day.  We didn't have any new injuries yesterday.  That's the best part that came out of the scrimmage.  That and Maggio splinting the up rights. (smiling)
Blue Devil Nation Premium Football articles will be free to all until October 15th.  Make this site a daily destination for some of the very best football coverage which will include recruiting and more.  And let other Duke Football fans know about the free trial.  Stay tuned for information on a move to our new home.[/private]