[private]Opening statement -
Execution lacked greatly on offense after a decent start.  We just were not able to execute.  It's something I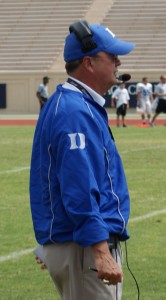 haven't seen in practice this week, so it concerns me.  Something is not correlating and we have to address it quickly.  Defensively we played really well early.  They took the ball down the field some early, but they are going to do that until you get use to the option.   I wish we could get more aggressive offensively and find that flow again.  We'll go to work on it during the open date and try to heal some people.  We have some bumps and bruises, but nobody is out other than Boyette and Lind on the injury chart.
On getting back to execution -
I'm not pleased with any aspect of the crispness of the execution of play.  It wasn't the scheme, it's not what we are choosing, it's just missing here and there.  All it takes is a person missing a block or a throw, not running a route.  It hasn't shown up in practice.  I have to make sure that we are not leaving it on the practice.  So we will start from the ground up and go into every detail with what is happening.  We will do a great evaluation of our players as well as techniques.
Could the loss be a lapse in the teams psych  or getting back to old habits -
It's hard to measure or evaluate whether a team is going back to a frame of mind or a negative reaction to when it gets hard.  The only thing I have ever been able to measure well was the performance in practice and the attitudes there.  Football is a funny thing!  Virginia turned around and beat Maryland 31-0.  Florida State and Miami scored a lot of points.  Both have tremendous defenses and they play a 41-39 game and nobody could have predicted the results of those two games. 
Do you have an answer or tried and true method to rectify some of the mistakes on offense -
If we can just run the ball a little better we can run play action and pass and get the ball down field, but we have been absolutely anemic running the football.  We can go back to our inside drill and you can always just turn the heat up a little bit.  We will do some of that, but can't do tons of it because we can't afford to beat up our team.  We don't have a lot of numbers available so it's kind of an old catch 22.  We're going to find a way to get people running the ball better.
The players reactions since being back -
They'll regroup.  They will be motivated and ready to go back to practice.  I don't think they're frustrated at all.  We just got whipped.  If you go into the arena enough times it happens.  I don't know if I remember one quite as bas as that one, but it does happen.  You use it as a way to challenge yourself.  I hope the team is looking forward to that challenge.  I think they are.
On the off week -
We worked today lifting and running to get through some of the soreness and to get the taste out of your mouth.  They will have tomorrow off and focus on academics.  We will practice Tuesday through Thursday.  I'm going to give them Friday through Sunday off.  I want us to get away from it a bit.  We'll come back Tuesday and have a great deal of work on game week.
On the team so far this year -
I think we've done some really good things.  They have been excited about playing.  Since I have been with them their work habits have improved 200%.  Our freshman and redshirt freshman know other way than how we work and that will grow.  I have seen great progress in so many areas, but we have got so anemic offensively of late you might not see it.  It goes back to eleven people and how they execute.  It's not that difficult to win if you make the play.  We haven't mastered that yet as a team.  That's one of the biggest jobs you have in football is getting a team to perform.
On what he had hoped would be better -
Running the football which is obvious to everybody.  I would like to have been further along there.  Our passing game is good at times, but certainly Saturday wasn't.  If you had asked me if we would be where we are today in January, I would have had a hard time believing we could be 3-2 at this juncture.   It's a credit to how hard they worked.
Has the running game been good in practice -
It's hard to do mid season.  We are running against the scout teams and those kids aren't Georgia Tech's Michael Johnson.  It's hard to simulate that.  People have been driving their blocks, moving their feet - that's been good.  I've got to watch and look at everything.  We are at a point where I have to assess if we are leaving it on the practice field because we are so intense in our practices.  We'll get it and we've got a week to figure it out.  So, it hasn't shown up broken until we were in a ball game.  It's got to be fixed and get fixed quick.  We will not make decisions by indecision.  We will make decisions in order to get better quickly.  We'll crank this thing up and go try to make it work.  I do like the challenge when people say, you are not going to get it done.  I'm a big believer in practicing hard, fast and with precision.  I'm a driver.  Now we have to look at if they can handle that.  That's where I am a little bit right now.[/private]