[private]The Duke Men's Basketball team (2-0) trounced Georgia Southern (1-1) 97-54 to advance to the semifinals of the Coaches versus Cancer 2K Classic.  The Blue Devils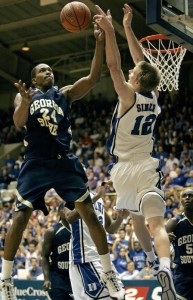 used a suffocating defense which held the Eagles to 28.1% shooting from the field.  Duke held the visitors to just two field goals in nine plus minutes of the first half which enabled them to go on a tear.
Kyle Singler once again led the Dukies with 19 points and 8 rebounds in just 22 minutes.  No Blue Devil played more minutes as Coach Krzyzewski went deep into his bench.  Nolan Smith, Greg Paulus and Gerald Henderson all scored in double digits.
Jon Scheyer led the team in assists with 7 and freshman Elliot Williams got an amazing 11 rebounds in as many minutes.  In short, Duke bounced back with a much better effort than the previous evening, save their free throw shooting which was less than 50% - 24 of 49.
The Duke defense also turned 17 turnovers into 24 points.  Like I said in yesterday's game recap, I expected this game to make many forget the opener which was ugly on the eyes.
Coach Krzyzewski used several combinations and Brian Zoubek started for the first time this season.  Duke got contributions from several players, including David McClure who scored 4 points and grabbed 5 boards.
Duke will play the winner of the UMass - Southern Illinois game on November 20th with the time to be determined.  Duke stretched its non conference winning streak in Cameron Indoor Stadium to 61 straight games.  Coach K now has 805 career wins.  Duke will take on Rhode Island in Cameron on Sunday at 4:30 pm.  This will be the third straight game televised by ESPNU in the young season.  Duke is now 2-0 all time versus the Eagles.
BDN Player of the Game - Kyle Singler[/private]