[private]The Blue Devil Nation talked basketball with Wojo this afternoon -
Steve Wojciechowski on his coaching role -
My role hasn't changed a great deal.  Coach allows his assistants to do a lot of things.  Whether game preparation or on court coaching.  That's one of the best things about working as an assistant on Duke.
On playing Purdue on the road -
It was a great opportunity and a great time for a test and our team to go play in an environment which was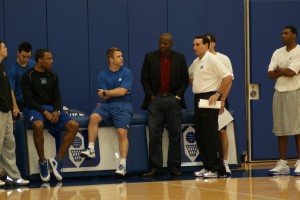 sold out and hostile  It's always good to see how your team will react in that kind of environment, because until you do it you don't know.  We are happy that our kids defended and rebounded the ball very well, which have been big keys to our success this year.
Has the atmosphere changed  since your playing days?
Not really.  We get every team's best shot - the arena and fans as well.  I can't remember a game where we've gone on the road and you felt like there was no atmosphere.
You seem to have more athleticism as a team and better front court play -
We're a different team than what you saw last year.  We are growing into men's bodies.  We have older kids and better depth.  And knock on wood we are healthy.  Our big guys have played very well defensively.  For one we are healthy.  Brian has played two years with a broken foot.  Our guys are a year wiser, bigger and stronger, and the front court kids are doing real well for our team.
Kyle Singler is having a really nice season.  Can you comment on him?
I think Kyle is one of the best players in the country.  He really sets a tone for our team with his competitiveness and his will to win.  I think those are his greatest attributes and he has a number of them.  He plays the game the way it should be played and there is nobody on our team that has more fun than Kyle.  You see that when he is out on the floor and the rest of our team should try to emulate that.
Duke must now play Michigan for a second time on their floor.  What are your thoughts on the Wolverines?
I think the atmosphere will be  much the same as Purdue.  We've already gotten the word that it's a sell out.  As a team they run a great system. Tremendous spacing offensively with really great shooters.  They are very dangerous from behind the three point line.  They play a very unique defense in the 1-3-1.  You don't see that often.  Having played them already we hope that works to our advantage.  We are really looking forward to going up there and competing against a really good team.
Have you seen UNC play yet?
We were out recruiting last night, but I watched them when I got home.  I had to make sure I (smiling) wasn't on the NBA channel after seeing them play.   They're outstanding.
How is Greg Paulus doing with concerns to his injuries?
We'll be glad to get him back to 100%.  I think it feels pretty good.  What some people is that he was out most of the summer.  As a player when you miss those large chunks of  time - it's not easy.  He continues to work himself back and for the most part I think he feels good.  He's anxious to do whatever it takes to help our team win.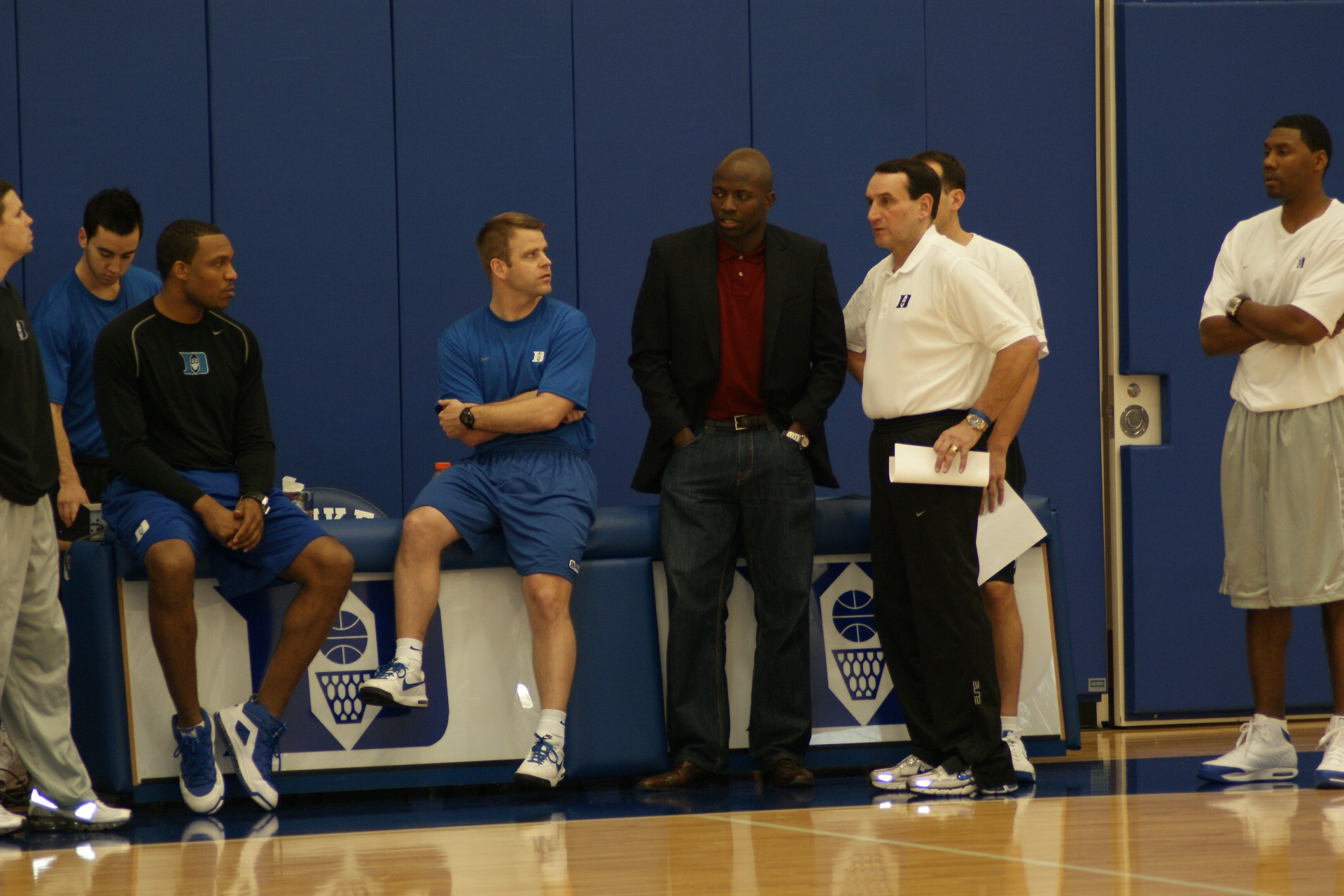 Blue Devil Nation was on hand for today's practice.  Premium members have Q & A's with the likes of Coach K, Kyle Singler and Chris Collins.  As you can see, Reggie Love was in town and enjoying himself as well.  Blue Devil Nation Premium is a subscription service which focuses on Duke Athletics as well as recruiting information.[/private]