[private] 
DURHAM, N.C. -- Duke head football coach David Cutcliffe has signed a two-year extension that pushes his current contract through the 2015 season, Vice President and Director of Athletics Kevin White announced on Sunday.
 
Terms of the contract will not be released.
 
"Coach Cutcliffe has clearly established himself as an elite player within the entire college football coaching community," White said.  "Without question, David is one of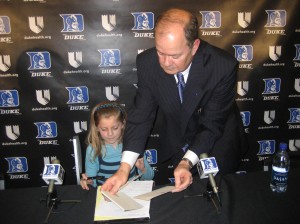 the premier coaches in the country.  Not surprisingly, in a relatively short period of time, David has implanted his strong and determined leadership all over the Duke football program.
"David has hired a phenomenal staff, and the efforts of the coaches have already paid dividends both on and off the field," continued White.  "To be sure, David's unqualified commitment to the comprehensive development of the student-athlete, as well as to the mission of this highly unique University, underscores the fact that this is indeed yet another great day for Duke!"
 
"David Cutcliffe is a great coach, a great teacher and a great citizen of the University and the community," said Duke President Richard H. Brodhead.  "He and his team have restored confidence and excitement in Duke football, and I look forward to his leadership on the field for a long time to come."
 
Hired on December 15, 2007, Cutcliffe guided the Blue Devils to a 4-8 record this past season -- equaling the victory total from Duke's previous four seasons combined -- while facing the second-toughest schedule in the nation and competing in the top conference in the country according to the Sagarin Ratings.  The Blue Devils faced 10 bowl eligible teams along with the top-ranked FCS team in James Madison.
 
"I am grateful to Dr. Brodhead and Kevin for their confidence in our staff as we build on something really special here at Duke," Cutcliffe said.  "As I have said many times
over the past year, Duke is a fantastic place with outstanding people, and we are thrilled to be a part of this institution."
 
Under Cutcliffe's direction, Duke showed significant improvement in all three phases in 2008.  On offense, Duke bettered its totals in total offense (+32.7), rushing offense (+42.2) and sacks allowed (-23) from the previous campaign while quarterback Thaddeus Lewis and wide receiver Eron Riley both earned All-ACC honors.  The defensive unit was led by All-America linebacker Michael Tauiliili and All-ACC defensive tackle Vince Oghobaase as the Blue Devils made marked improvement in scoring defense (-9.8), total defense (-67.4), rushing defense (-28.7) and passing defense (-38.7) and held three opponents to less than 10 points for the first time since 1976.
 
After making a combined seven-of-22 (.318) field goal attempts over the 2006-07 seasons, Blue Devil kickers booted 13-of-18 (.722) field goal attempts in 2008, posting the highest field goal success rate in a single-season at Duke since 1998.  Nick Maggio (28-of-28) became just the third kicker in Duke history to make 25 or more PATs without a miss in a single season while punter Kevin Jones ranks third in the ACC in punting (40.8 avg.).
 
In addition, Duke saw an increase of 60 percent in season ticket sales for 2008 and had four home crowds of 30,000 or more fans for the first time in school history.  Duke's average home attendance of 28,727 in 2008 was the largest since 1994.[/private]