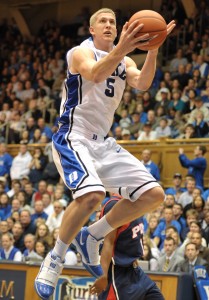 Durham, N.C. - The Blue Devils had little trouble of disposing of a winless Pennsylvania Quaker team, routing the outmatched opponent by a score of 114-55.  Duke ends the decade as the winningest team in college basketball.  In fact, their 294 wins are the most in any decade which is quite a milestone.
Duke's margin of victory was the worst defeat in Penn history and the most points the Quakers have ever allowed.  Duke went deep into their bench playing 12 players, but the usual suspects Nolan Smith, Kyle Singler and Jon Scheyer.
Nolan Smith led the way with 23 points, Kyle Singler added 20 and Scheyer 19 to go with a monster 11 assists.  One of the bright spots was the play of once injured freshman Mason Plumlee who scored 19 points and grabbed 7 rebounds.
There were several other Duke players who padded their stats going into ACC play as you can see in the  Official Box Score.
Duke scored 29 points off of turnovers and 22 second chance points and pretty much had their way as evidenced 43-25 rebounding advantage.  In short, this game was nothing more than a tuneup for Clemson who comes into Cameron on Sunday evening.
Duke is now 11-1 for the season and the wins get tougher from here on out.
Notes - Denzel Washington got a lot of looks as he watched his son Malcolm, a freshman on the Penn team play.  Stay tuned for the BDN Locker Room Report where we have one on one interviews with Nolan Smith, Jon Scheyer and Mason Plumlee.  Have a safe and happy new year.