Blue Devil Nation has decided that we'll return to linking some of the more interesting articles and will offer you some comments ranging from what we're hearing to opinion.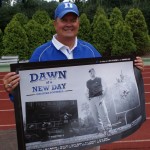 Capel to replace Williams?   Watkins disses UVA for Devils, Duke Super Bowl connections, women's hoops updates, more football prospect news, another former coach with Duke ties up for the Maryland job?  Random tidbits and nuggets as our daily links of interest returns.
Signing Day for college football is this coming Wednesday and Coach Cutcliffe is set to welcome his first true recruiting class.  One of the late prizes is a wide reciever prospect Charles Watkins who pulled away from Virginia after a recent visit to Duke.  In the link above, Watkins says all went well with his visit and that Coach K said he'd be allowed to try out for the basketball team.  Here is another link talking of Duke prospect Lex Butler and his recovery from the dread Achilles tendon injury.  I can relate to this in that I'm just over a year removed from a complete tear.
Looking for a Duke connection in this weekends Super Bowl?  Here is a story on Ben Patrick from his hometown newspaper.  And let's not forget Patrick Bailey who suits up for Pittsburgh.  Here is a nice link from the Duke Chronicle.  FWIW, I am pulling for the Cardinals, but I'd lay the points with Pittsburgh if I were a betting man.
So, you've been hearing about the troubles in Maryland concerning basketball coach Gary Williams.  It looks as if a new coach may be coming to Terp Town and don't be surprised if there are not some Duke ties.  Sources have long claimed that Mike Brey would leave Notre Dame for another job and some are saying he'd listen.  But Sooner fans are already worrying about overtures for Jeff Capel as you can see in this link.  For future reference, remember this - the DePaul job could interest another Blue Devil.  Here is the latest on Williams from the Baltimore Sun.  Then there is Rob Daniels latest blurb at the ACC Sports Journal. 
Former Duke Women's player Barbara Krause will be honored on March the 7th.  Speaking of the women, our Blue Devils were upset in overtime for their second loss of the season.  The upstart 18th ranked  Florida State 'Noles defeated our women on the road last evening.
In this link, Gerald Henderson is listed as one of the top five shooting guards in the nation.  I like what they say about him possibly furthering his skill set under Coach K.  Speaking of Hendo or "G," as he is known to his teammates and staff - here is an excellent read on the budding star from Alwyn Featherston.  Okay, Al for some of you, but I like his full name better;)
And Caulton Tudor actually says, don't bury Duke just yet!  Okay, so who is actually burying the Devils after a two point loss on the road in Winston Salem?  Still, Mr. Tudor is not always this generous when it comes to Duke, so we decided to link him.