[private]The Blue Devils close out 2008 in style by defeating Loyola, Maryland 92-51 to raise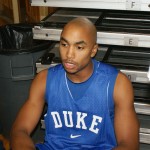 their record to 11-1.  There was little sign of lay off blues, save the fact that Duke hit just one three point field goal in route to 92 points.
Despite being cold from beyond the stripe, Duke was on target in all other phases of the game.  Kyle Singler led the Dukies with 20 points.
Brian Zoubek had one of his best games of the season scoring 15 points and grabbing 10 rebounds.
Gerald Henderson continued his stellar play of late, tallying 19 points.  "G" as he is known by his teammates and staff was pretty much all over the court making several outstanding plays.
Hendersons play prompted Krzyzewski to say, "I think G now has put three really good games together.  We need him, we need him badly – he and Jon and Kyle, really are the three guys that have to be there every day for us at a really high level."
There will be no more breaks the rest of the season as ACC play begins in earnest.  Duke will host Virginia Tech this Sunday and getting off to a good start against what has proved to be a tough match up will be vital.
"We're excited to get going. Hopefully some of the students are back Sunday night to create a really good atmosphere in here. Virginia Tech has played a very difficult schedule. In Vassallo, they have one of the top scorers in the league. They're a veteran team – I think they're a really good basketball team. Once you start ACC play, everything is kind of even. That's why you start 0-0 again," said Krzyzewski.
Today's win was the Blue Devils 66th straight home victory ove an out of conference opponent.  Check back in with the Blue Devil Nation this Friday for player quotes going into ACC play.
Box Score Link[/private]