DURHAM, N.C. —
Senior All-America linebacker Michael Tauiliili was named the recipient of the Carmen Falcone Most Valuable Player Award at Duke University's annual football banquet held on Saturday evening in Durham, N.C.
Tauiliili, a native of Houston, Texas, led Duke in tackles (140), interceptions (4), pass breakups (5), quarterback pressures (5) and caused fumbles (3). His 140 stops led the ACC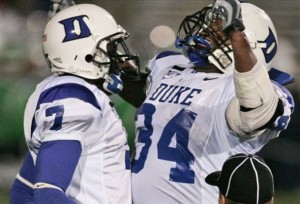 and matched the eighth highest single-season total in school history. He added 13.0 tackles for loss and one fumble recovery and
received All-America honors from the Walter Camp Foundation (2nd team), Associated Press (3rd team) and Sports Illustrated (Honorable Mention).
A First Team All-ACC selection, Tauiliili finished third in the league's Defensive Player of the Year voting after captaining a Duke defense that held three opponents to less than 10 points for the first time since 1976. He also received a Captain's Award, the Iron Devil Award for most snaps played and the Outstanding Linebacker Award.
Other honorees included Greg Akinbiyi (Captain's Award & Outstanding Defensive Lineman), Re'quan Boyette (Captain's Award), Cameron Goldberg(Captain's Award & Outstanding Offensive Lineman), Abraham Kromah (Outstanding Special Teams Player), Thaddeus Lewis (Outstanding Offensive Back), Vince Oghobaase (Ace Parker Award), Eriks Reks (Mike Suglia Award), Vincent Rey (Captain's Award), Eron Riley (Captain's Award & Outstanding Receiver), Tielor Robinson (Captain's Award), Glenn Williams (Captain's Award & Outstanding Defensive Back) and Ryan Wood (Micah Harris Trinity Teammate Award).
Akinbiyi, a senior defensive end from Miami, Fla., finished the season with 55 tackles while leading the Blue Devils in both tackles for loss (14.5) and quarterback sacks (6.0).
Boyette, a senior running back from Wilson, N.C., missed the entire 2008 campaign while recovering from knee surgery. He will return for his fifth season of eligibility in 2009.
Goldberg, a senior offensive tackle from Lutherville, Md., started all 12 games for the Blue Devils in 2008 and was a primary reason Duke allowed 23 fewer sacks than the previous season. Goldberg finished his career with 35 starts along the Duke offensive front.
Kromah, a sophomore linebacker from Staten Island, N.Y., closed the year with 13 tackles and one blocked punt.
Lewis, a junior quarterback from Opa-Locka, Fla., earned Second Team All-ACC accolades after completing 224-of-361 passes for 2,171 yards and 15 touchdowns.
Oghobaase, a junior defensive tackle from Houston Texas, was awarded the Ace Parker Award which is presented annually to an individual who displays unparalleled commitment to the team and overcomes adversity to contribute. Parker, one of 11 former Duke players and coaches to be enshrined into the College Football Hall of Fame, was a two-time All-America pick in 1935 and 1936. Following his successful NFL career, he was inducted into the Pro Football Hall of Fame in 1972. Parker later served as an assistant coach at Duke from 1947-65. An honorable mention All-ACC selection, Oghobaase posted 51 tackles in 2008 along with nine tackles for loss, six quarterback sacks and five quarterback pressures.
Reks, a sophomore defensive end from Wrentham, Mass., received the Mike Suglia Award which is presented annually to the second-year member of the Duke football program who best exemplifies the qualities of the late Mike Suglia. Suglia was an offensive lineman at Duke in 1976-77 who died suddenly during the spring of his sophomore year. He was an excellent student, an outstanding football player, and, most importantly, a young man of the highest integrity.
Rey, a junior linebacker from Far Rockaway, N.Y., finished second on the team behind Tauiliili with 109 total tackles. He added 15.5 tackles for loss, two quarterback sacks and two fumble returns for touchdowns on the year.
Riley, a senior wide receiver from Savannah, Ga., caught 61 passes for 693 yards and eight touchdowns en route to earning second team all-league honors.
Robinson, a senior tight end from Greenwich, Conn., had 16 pass receptions for 97 yards on the year while rushing for two touchdowns on six attempts.
Williams, a senior defensive back from Baltimore, Md., was fourth on the team in tackles with 60 and also contributed three tackles for loss, two quarterback sacks, three caused fumbles and one interception.
Wood was the recipient of the Micah Harris Trinity Teammate Award which is presented annually to the member of the Duke football program who displays the highest teammate qualities such as inspiration, unselfishness and commitment to the team. Micah Harris was tragically killed in an automobile accident in June of 2004, just prior to his senior year at Duke.
DURHAM, N.C. -- Duke senior linebacker Michael Tauiliili earned Defensive MVP honors of the 84th annual East-West Shrine Bowl on Saturday afternoon in Houston, Texas.
 
Tauiliili, playing in his hometown, registered a game-high 13 tackles while helping the East squad to a 24-19 victory.  The East defense stopped the West three times inside the 10-yard line.  Trailing by five points late in the fourth period, the West squad moved inside the 10 but a fourth down pass by Central Washington's Mike Reilly was incomplete.
 
"It was a great stand for us," said Tauiliili, who also served as a captain for the East squad. "It was a great atmosphere playing with the best of the best."
 
Nebraska running back Marlon Lucky earned Offensive MVP honors after rushing for 68 yards and one touchdown.
 
Tauiliili becomes the second Duke player to garner Defensive MVP honors at the East-West Shrine Bowl as former Blue Devil safety Alex Green received the award in 2005.