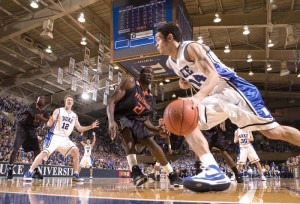 Anybody who has watched a lot of basketball will tell you teams play in cycles.  Sometimes a made shot, key steal or more importantly a win will get you back on track.
Well, Duke hopes today's hard fought victory over a game Miami team will pull them out of a funk.  It certainly looked as if the Blue Devils were on their way to a second straight loss after one of the worst half's of offensive basketball I have seen them play.
Coming off the Clemson debacle, fans hoped to see a well oiled machine, but it became evident that Duke was in a mental funk and by intermission even the most positive fans were wondering if Duke could find any way to score.
While the first half was seriously ugly, the end result was beautiful for Duke.  Wise men will tell you that win you win a game like this, you let the first half go.  In fact, Duke should let the Clemson game as well.
Ironically, it was the much maligned Greg Paulus who was a key catalyst.  He made some mistakes but he played through them and continued to hustle forcing many miscues you don't get credit for in the stat sheet.
Paulus three pointers and 18 points were especially vital considering sophomore Nolan Smith has all of a sudden got the look of a deer in headlights about him when on the court.
Singler struggled mightily from the outside and took a few rushed shots, but his toughness on the boards was vital as well.  The super soph hit just 5 of his 23 shots, but he had the presence of mind to keep shooting and that is what was needed.
Like Paulus, senior Dave McClure reached deep down to help his fellow Devils.  McCluers defense was stellar and his game high 14 rebounds were incredible for many of them were created by pure desire.  One needs to not that half of them were on the offensive boards.
And then there is Gerald Henderson.  After a single point before the half, he asserted himself to score 19 points and many of those were in one key stretch run.
The bottom line is if you look at individual stats and the Duke shooting percentage, you would think they lost.  But they didn't and much of that can be attributed to half time adjustments where Coach K tinkered with his defense.
During the second half, Krzyzewski made another good move, calling a timeout after his team hit a stretch where they missed five shot in a row, all beyond the stripe.  He obviously told them to attack more and when they did it payed off.
You can certainly point to a lot of areas Duke needs work on, be it attacking a zone defense or getting players other than the big three to step up.  Actually, two did step up today and they were both seniors.  Duke could not have won this game without their spirited play.
In the end, there was one key thing which happened today and that was Duke got the win.  The way they had to fight back to take that win is something which cannot be measured with concerns to confidence.
Duke is now realizing how hard teams will come at them and they are seeing defenses designed to give them trouble.  Despite how bad some feel Duke is playing, they are tied atop the conference at 7-2 and won their 20th game of the season against three losses.
You see, it's better to struggle or see those defenses now for those are the kind of lessons that prepare you for March.  Duke will now prepare for rival North Carolina.  The two teams will battle for sole possession of first place in the ACC and you can be sure that the lessons learned by Duke will benefit them in this game.
GAME LINKS -