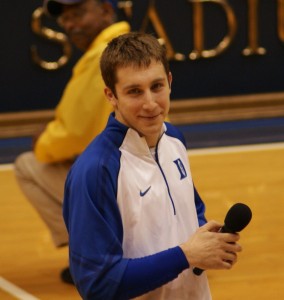 Greg Paulus held a media conference today earlier this morning to discuss his future this morning.  Here is a large portion of that session -
Where do you stand at this point and time?
My stance at this time is that I am looking at some different opportunities.  There a some opportunities out there involving football and basketball.  Right now I am trying to get as much information on those situations as possible.  Take it step by step in the process and try to figure out what the best thing for me to do for my future.
When did you start to think about football?  Was it during the basketball season?
No, it wasn't.  During the season it was always about basketball and Duke and how we could make a run at the tournament.  A few weeks after the season I received some interest from a few people which got me thinking and out there throwing the ball a little bit.  And that's what kind of sparked it.
You went to Michigan -

I did go to Michigan the other day.  I do not have anything set up f or another visit right now.  There could be down the road. I am trying to gather information on different schools or options.  I do not have any visits set in stone.
On his relationship with Coach Greg Robinson and if that played a factor -
You know, I do have a good relationship with Coach Robinson.  When I was back home in Syracuse I had some friend on the teams anjd went back to practices.  I didn't have any communication from him until I got up to Michigan.   I had a chance to speak with him and catch up a little bit.  But that was the first communication with Coach Robinson.
Has it been expressed by Michigan that you are welcome to join?
[brief pause]  You know what, I had a great visit with them yesterday and both Michigan and myself are just trying to learn about each other and feel out the situation.  It's one thing to talk on the phone but another thing to spend a day on the campus and build a relationship with the coaching staff.  But there has been an opportunity given there.
On the possibility of playing at Syracuse -

In reference to Syracuse, I obviously love Syracuse and have lived there a long time, it's home  and there has been some interest and something I am looking into.  There is nothing set in stone about a visit but I am interested.
On the Green Bay Packers -

A couple of days after the season ended for basketball, there was some interest from the Green Bay Packers and we got in touch and set up some workouts.  Communication came through and that was when I started to throw again.  It was a lot of fun to throw the football around and it was a great opportunity the Green Bay Packers offered  And everyday I went out there and threw it got better and better each day.
On NCAA rules and where and when he can play -

Yeah, there is a number of rules we are trying to follow.  I will graduate in May, which is Mothers Day weekend.  I am really glad to graduate with some of the opportunities that have presented itself, whether that it with another university, there is different things you have to look into.  There is another year of eligibility for me.  The research I am doing is pretty extensive and I find the process exciting.  It would have to be a Division 1-A  program but it cannot be 1-AA.
On other universities -

Yeah, yeah.  There has been some other interest from the universities and other teams and it's something where I am in the process of building a relationship with those involved.  There are options out there and I am listening to them and trying to learn about those opportunities when they present themselves.
So you will have to play this season and cannot sit out?
That is correct yes.
How may coaches have been in touch?
There have been several other schools that have been in contact.  I do not feel comfortable naming them at this point.
How important is it to find a situation where you will play right away?
I think one of the things when looking at a situation involving a school is that you want to help the program.  You want an opportunity if you help them to go to grad school.  I think that having an opportunity to compete and play right away is very attractive to me.  If this is the route chosen, I think that will be a major factor.
Has there bee contact from other NFL teams?
There has been several other contacts from the NFL.  Once again, I don't feel comfortable naming those, but there has been several other teams who have been in contact or called.
Any workouts planned?
We are in the process of trying to gather the information to work something out.  If there is an NFL team that calls and wants to see me throw.   I'll be glad to get out there and show them what I can do.
On  the Blue Devils offer to play wideout -
You know what, I'm a huge, huge fan of Coach Cutcliffe.  I am a big fan of him and what he is doing and have a lot of friends on the team.  If I play the game of football, I can only see myself as a quarterback and that's one of things I want to do if that is the best option and in my heart that's what I want to do - be a quarterback.
On the media interest -
I'm a little surprised.  There have been some really great opportunities that have come up in the last couple of weeks and I am very appreciative of all those things which have come my way.  I know that the Duke coaching staff here and some other people.  It's an honor to have an opportunity to continue to play and kind of keep that going.  It's been a dream not only to play Duke Basketball but continue towards a professional level.  If you could being the professional ranks would be another dream come true. To have all these opportunities is very exciting and I feel fortunate because of them.   So it is surprising but it's also exciting.
Join Blue Devil Nation Premium - where fact and fiction are separated