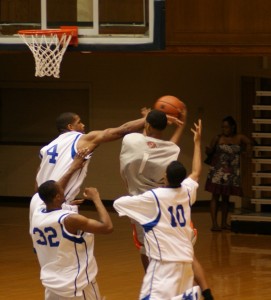 If one spends enough time evaluating talent on the AAU scene, they quickly learn that it takes more than one event to judge a player's skills.  All too often, a kid will blow up in a game or an event and get crowned the next Kobe Bryant.  Others will struggle or not live up to expectations, making it easy for the observer to label them overrated. 
Had I not been around the circuit a few times, I would have stated that LaQuinton Ross is vastly overrated.  Ross (6-8, 180, Jackson, MS) came into the Tournament of Champions event in almost everybody's top five players in the class of 2011, but he failed to live up to the hype when I first saw him.  I thought to myself, perhaps the reason for my disappointment has something to do with him playing for a very talented AAU team.   I then did a little digging and was told he as coming off an injury, which hindered his ability to move as he normally would. 
In my second view, Ross showed flashes of why he has earned high rankings by the scouts, but he still was far from his A-game.  Don't get me wrong, he stands out as an outstanding player, but just didn't seem to be one of the nation's top five players.  That's why I always wait to give my true analysis of a player after multiple views.  My general rule is that I must see a prospect play in a minimum of five games and that has to be over two separate events.  This rule has proven to help me get a real feel for a player.  One must consider that intangibles are always at work.  A kid may be hurt, or he has been going through some of life's issues.  I like to see a young man play tired to see if he forces himself through it.  I like to see a kid go up against an wide variety of match ups and AAU styles.  I could go on but you get the picture and you can bet that I will see Ross play a few more times before making a true assessment. 
It is worth noting that Duke has already made contact and visited Ross's school to see him play as you will hear in this audio interview - (Join BDN Premium and get full access and benefits from our site) [private]
Enjoy the interview.
[/private]