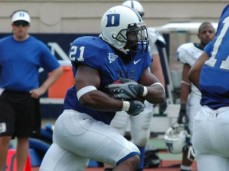 BDN chatted with Duke LB Abraham Kromah on Tuesday.  Here is that interview -
Play makers, on defense!  Do you feel like you can be a "play maker" on defense this season?
I definitely hope to.  As long as I take what the coaches give me, there is no chance you cannot be successful.  I just have to implement and do the things they harp on like watching film and studying my opponent.  They put everybody in position to make plays so it's just up to me to be accountable to my teammates and do what I have to do.
Last year Michael Tauliliili had Vincent Rey, this year Vincent Rey has?   Do you think you can be that guy?
I feel like I can do some things and I'll definitely need to just keep coming along and keep taking the coaching and we'll go from there.
Can you describe your game in your own words?
I would like to think of myself as a hard worker.  I pride myself in running to the ball and fitting in with the defense and do what I have to do.  I play to the defense run to the ball and make plays.  Just try to be as fearless as possible.
You have had two head coaches in Roof and Cutcliffe.  What was the change like for you?
It's tough to see new people come and people go, but change is sometimes necessary.  It's been part of a growing up process for me.  Everything is looking up now and we've seen improvement and what it takes to win, so it feels like everything happens for a reason.
Some people are questioning the 09  linebackers, saying there is no depth.  What do you think about that?
Every Saturday you get to go out there and prove yourself.  Better yet you go out and practice and get better.  To me, you don't want respect givent to you anyway.  You want to earn it and in that regard I feel like we need to go out there and make the plays and show everybody what we are capable of.
How important is it to you for fans and students to turn out for the opener against Richmond?
I feel like it is important.  We love the fan support.  The students ... you just hope they stay behind you and let us know they are faithful in us.  I hope fans know we are working hard every single day to give them what they want and came to see.
What is it like to see changes being made around you?  The new practice field, visitors locker room and practice facility ...  As a player do these changes mean a lot to you?
Yeah, it definitely is a plus for me.  It shows me that Coach Cutcliffe is a man of his word and what he has said so far, he's done.  If I were to make a list of tall the things he said he was going to do  ... It's all definitely been done.  We are taking the steps forward for success.